Hearts, Dogs, and Heart Dogs
Our dog blogging and dog training friend KB from Romping and Rolling in the Rockies recently posted a quote that got me thinking. Have you heard the term "heart dog"? Well, it makes me wonder … what happens before and after your heart dog experience? And, what is a heart dog, anyway?
"It came to me that every time I lose a dog they take a piece of my heart with them. And every new dog who comes into my life, gifts me with a piece of their heart. If I live long enough, all the components of my heart will be dog, and I will become as generous and loving as they are." — Unknown
Remember, I grew up with dogs — total of 4 in my childhood.
Without a doubt, I adored Penelope Grace (a Dalmatian), the first dog of my very own as an adult. And, clearly I love, love, loved Cody (a yellow-lab mix). There is even a special place in my heart for Gilbert, who I failed. And, who cannot love Ginko beyond all measure?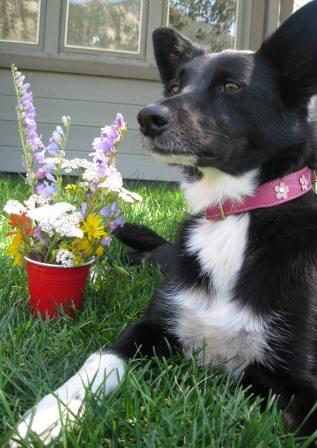 So, what makes Lilly different? What makes her special? Why have I bonded with her in bigger ways than any other dog in my life?
Maybe it's the level of training we've done together … exponentially more.
Maybe it's that I've finally found my breed match. Truly, there is something eerily similar about border collies and writers.
Maybe it's the particularly trying time in my life.
Maybe Lilly *is* the dog that finally changed my heart over to all dog.
Maybe she is indeed "the one" in a more cosmic sense.
If I wasn't so tired, I'd create a little blog poll about what makes a heart dog. Instead, let's just talk about it.
What do you think makes a heart dog?
Have you had your heart dog yet?
If so, how does that impact your relationship with subsequent dogs?