Despite the germs (which linger, I'm sorry to say), I took Lilly on a little outing down into town last weekend. We went for a short walk. Lilly scaled rocks and walls. She even practiced a little shopping etiquette. Here is how it went.
Walking The Dog
I'm embarrassed to tell you that this little outing is the first time Lilly has been anywhere in months and months. Seriously, it's been a long, l-o-n-g time. Lilly was THRILLED to be out, doing something, anything away from the house or our valley.
It was a tiny bit chilly, so I didn't want to exert too much and breathe too much cold air, but we took our usual spin through town. To make it more interesting, I asked Lilly to HOP UP on pretty much everything we came across:
Benches
Big boulders on the side of the creek
Retaining walls
Planters
She thought that was VERY fun. Some folks asked us what we were training for, and when I said that Lilly was simply fearful and we were training for life, they said she looked pretty darn confident to them.
Dog Training Streetside
Normally, we stick to the intersecting paved trails in town, but that particular day I decided to try our luck walking up and down "Main Street" because it was "Small Business Saturday," which is designed to get smaller retailers some of the holiday shopping moolah. I wanted to buy just 1 thing from a local biz to help out.
Lilly's body language and responsiveness stayed well in line with normal (for her). She did, however, have one fit of Jumping Her Jitters Out … after a particularly noisy car went by.
But, she recovered nicely when a couple from out of town asked where they might go for breakfast. We walked them to the corner and showed them our favorite spot.
Lilly Goes Shopping
Since shopping traffic seemed doable, I decided to take Lilly into a few stores (that allow dogs) to look around and to have her POKE people (hand target), if we could find willing participants. Lilly visited:
A bike store
A women's clothing store
An independent bookstore, where we bought a knitting book on scarves
On the surface, Lilly coped quite well inside the stores … except that she kept her tail tucked up tight to her belly. Poor sweetie girl. It popped back out when we returned to the street, but she tucked it away (like the force of gravity) when we went into a new store.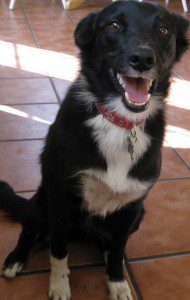 Maybe a Little Public Event?
While we were in the bookstore, I asked the owner about maybe doing a reading from My Dog is My Hero, which features an essay I wrote about Lilly. He seemed open to the idea, so maybe after the holidays we'll do a little public event — read some essays, serve some refreshments, maybe sell some books, and maybe meet some old and new fans in person.
Do you think anyone will come?
And, the bigger question … Do you think I should bring Lilly?
Part of me says, "No way!"
Part of me thinks she'd be OK as long as the attendees were people, but not dogs. And, I think together we'd be a bigger draw than me alone.
Maybe if I had someone we trust to "handle" Lilly for the event?
Thoughts? Warnings?