Dog Book Review: Rescue Me, Maybe
Rescue Me, Maybe, the latest novel from author Jackie Bouchard, is a story about finding a new path when what had been your real life up and dies on you — literally. Considering all the illness / death / destruction in my life these last 5 years, I held my breath when I realized that the book opens at a FUNERAL. I admit it … I did email Bouchard at one point to ask if it was safe for a girl like me, who is deeply steeped in grief, to keep reading. She replied (in part) …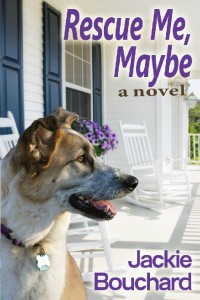 "I can't handle books where the dog dies at the end, and I promise I'll never write one of those!"
I won't give away the TWIST at the beginning of the book, but brace yourself.
What I love about Rescue Me, Maybe — and Bouchard's writing overall — is that she writes REAL people, believable people, funny people (and dogs). She doesn't do fantasy, escapist fiction, with heaving bosoms and the kind of men who don't exist in nature.
If you like any of these things, then I think you'll like Rescue Me, Maybe:
Dogs
Real life, even when it isn't what everyone expects
B&Bs
Food (especially baking)
Cute guys who can fix things
Small(ish) towns
Relatives who never quite get the words just right
I cannot figure out how to embed the video, but here is a link to it on Vimeo: Rescue Me, Maybe Book Trailer.
If you missed Bouchard's first book, checkout the earlier review of What the Dog Ate.