Canine Acupuncture, Physical Therapy, and Underwater Treadmills: Oh, My
It has been a ridiculous week in Lilly Town. Here is a quick recap of our efforts to help Lilly recover from a terrible bladder infection. It stems from her symptoms and treatment for rabies vaccine-induced brain and spinal cord inflammation. We are now 13 months into this saga.
The Infection
The urine culture revealed that Lilly is suffering a severe e coli infection in her bladder and bladder lining, which continues to off-gas into the bladder wall despite 2 full weeks of antibiotics. We started antibiotic #2 today. Lilly will take that for 2 more weeks.
We were very lucky that her bladder did NOT rupture, but she is still battling this infection with all she has.
Lilly is exhausted much of the time.
Next Wednesday (2/13), our veterinarian will repeat the urine culture and bladder x-ray to check her progress.
The infection was likely caused by a combination of 3 things:
Lilly's total incontinence (both ways) since June 2012, which requires diapers
Numerous drugs she has now taken for 13 months that suppress her immune system, including one drug used after human organ transplants
5 months of "chemo" injections / cytarabine, which is known to be tough on the bladder
New Treatments
Lilly now receives weekly acupuncture / chiropractic treatments in hopes of making her feel better in general and of treating the incontinence. She was a total fuss-pot during yesterday's treatment, so this is the best photo I could get.
Still, kudos to Lilly for putting up with needles right in the old caboose, including a tiny current of electrical stimulation.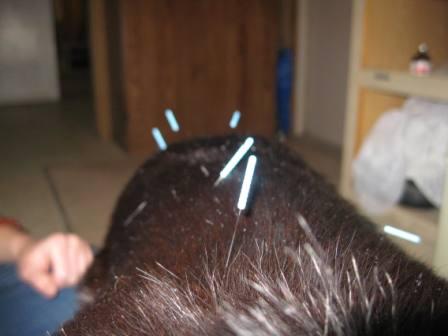 In addition to daily physical-therapy sessions at home, Lilly gets weekly physical therapy treatments at The K-9 Body Shop. We're hoping to help her regain her strength, balance, and stamina as well as perhaps help with the rampant, unrelenting incontinence by giving her more strength in key areas.
Today, Lilly took her first trip into the underwater treadmill tank in stride. She walked in armpit-deep water for 4 minutes at about 1 mile per hour.
Since she is SO sound sensitive / fearful, I was a little worried at the noise when the pumps first kick on, but I fed Lilly treats until the sounds stopped, and she seemed fine.
She was mostly curious at the water rushing in.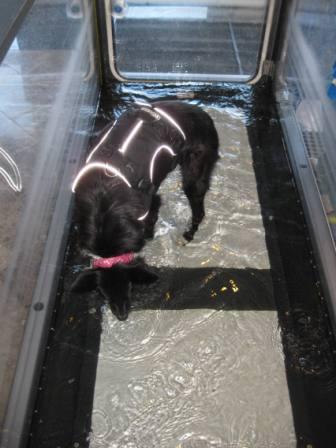 Lilly wore her harness just so we could be sure we could easily help her if she slipped or lost her balance. Even though she is weak and wobbly, Lilly typically does doesn't need the harness to walk anymore.
When she stands too long, though, her rear legs give out, and her bottom droops something awful. It's kind of sad, so we're constantly asking her to SIT or DOWN just so she isn't struggling all the time. We are hoping that strategic exercise will help all around.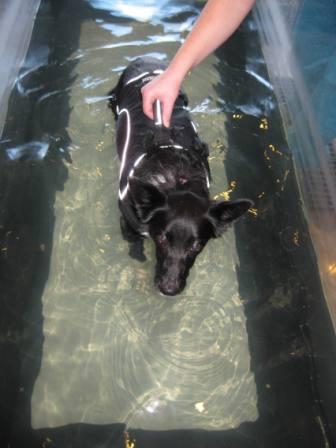 This short underwater treadmill video (about 1 1/2 minutes) shows her very first time in the tank. She took to it pretty well, I think, with LOTS of cheering from me and the girls at The K-9 Body Shop.
Use the link if the embed doesn't work. There still may be some techno-glitch that I haven't had time to figure out.

Neurology News
For now, we'll keep all of Lilly's neurology meds as is — except for the cytarabine injections. We've stopped those, likely for good.
She is lethargic much of the time and wobbly, but it isn't progressing or getting worse. So, we're still blaming most of that on the darn infection.
Lilly did begin squatting to pee (sometimes) on her own the first few days of antibiotics, but she stopped doing that 4-5 days ago. We hope it will return with the new antibiotics and other treatments.
Other Supplements
We've also added probiotics and will soon add a cranberry supplement. Once we're over the hump with this rotten infection, we may also add a couple more herbs for liver support and to help her body cope with non-stop steroids.
**
So, things are steady. Not really worse. Not really better. It's hard not to worry, but I'm trying. There are several big treatment decisions in the near future, and they keep me up at night. So, I'm a little tired and overwrought, but I'm also so thankful that Lilly keeps fighting on an remains at my side.
Have a great weekend.
More posts as news warrants.