Thanks again to all of you who contributed money during our Never Shock a Puppy campaign last fall. The funds raised by the entire coalition actively supports the Humane Society of Boulder Valley's No-Choke Challenge, which launched January 15, 2011.
Because that's where we adopted Lilly in October 2004 and because Boulder Humane is truly one of the most progressive animal welfare spots in the country, we could not be MORE thrilled to support their efforts … first by raising money through our Be the Change campaign and now by spreading the word about the No-Choke Challenge.
Humane Society of Boulder Valley is giving away SENSE-ation (no-pull) harnesses to anyone who turns in a:
Choke collar
Pinch/prong collar
Shock collar
All that people have to do is bring their aversive collar into the humane society's onsite Sonnyside Retail Store. It's that simple.
They've created some great online content that explains why the Humane Society of Boulder Valley prefers no-pull harnesses and why they oppose aversive collars.
The campaign includes both CUTE and (ahem) attention-getting ads. Having sat in on meetings months ago, I can tell you that they chose the most tame ads from among some hilarious (and even racier) options.
To help promote the No-Choke Challenge, I even changed my Facebook profile picture to the one of the man in chains below. I'm sure THAT raised a few eyebrows.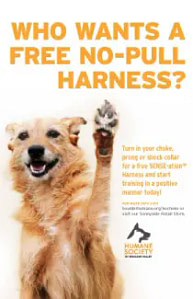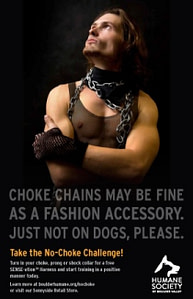 Because we hope that others will want to place these graphics on their blogs/sites, we posted the No-Choke Challenge badge/widget code on our Never Shock a Puppy site. Feel free to grab it and post.