BlogPaws Schwag Report
We plan to do some actual product reviews, including video and photo footage of Lilly's response to various toys in particular, but for now, let's just recap what we found in our BlogPaws West schwag bag.
Keep in mind this includes things people gave me in the exhibit/sponsor hall as well as some extra stuff for the DogTime Best Blog Award finalists. YES, I got all this stuff for free, but I was under no obligation to write about … I just wanted to.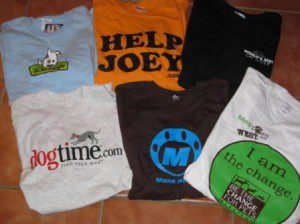 T-Shirts: Indeed, I ended up with a great many t-shirts from the event. Since I pretty much LIVE in t-shirts, I have to say it's nice to have a few new ones.
With fall in the air and flannel sheets back on the bed, I'm especially excited with my long-sleeve t-shirt from GoPetFriendly.com. We've traded some guests posts in the past: Theirs on traveling with fearful dogs; Mine on dog-friendly spots in our hometown. We also took a pre-BlogPaws hike a couple weeks ago.
For road safety reasons, I'm also happy to have a bright orange HELP JOEY! t-shirt. These guys amused us all to no end. Rather than hype the usual spay/neuter message a la Bob Barker, they're on a mission to ruin the mood for horny pets.
I haven't yet figured out if this truly is a hilarious/creative campaign for its own sake, a very clever guerrilla marketing/social media effort in advance of some kind of product or company launch, or some sort of blogger outreach experiment. The skeptic in me is watching with both amusement and curiosity.
And, honestly, I probably would have blogged about them, followed HelpJoey on Twitter, and LIKE'd them on Facebook no matter what because their introductory narrative and schtick is really quite good. And, I think we need to recognize those brave enough to put themselves out there.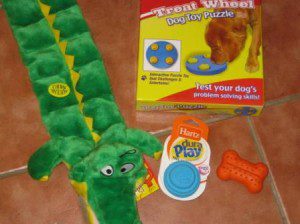 Toys: I'd already named the alligator Gifts for Dogs and Dog Lovers Under $10 and Under $20 in 2009 .
We'd been lamenting our inability to find Lilly's favorite ball in stores, so we're happy to see that Hartz has a new dura-play ball. It seems sturdier than the ones we've had before. So, stay tuned.
And, I had been coveting those puzzle toys. So, I'm super excited to get one. Suffice it to say our initial play session with it did not go well. Video pending.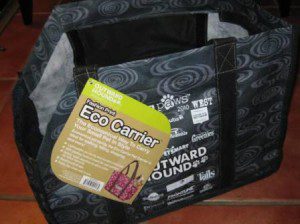 Dog Tote: The actual bag that was our schwag bag was an inexpensive small-dog tote. Since no canine here at Chez Champion of My Heart is small enough to be schlepped. I've found a worthy and tiny dog (under 5 pounds) whose mom is thrilled to get the FREE bag. Dog Jaunt did a terrific review of the bag's functionality: Product Review: Kyjen's Outward Hound Eco Carrier.
Food Items: Yep, there were dog and cat treats, of course. I gave the cat ones to Tom's mom for her Chloe kitty. And, we're using the rest as training food around here.
Look for possible reviews, especially on the Wellness treats in the future.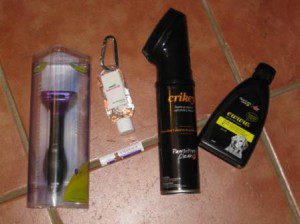 Cleaning Items: We scored another Furminator. It's labeled for cats, but I checked with pals and found that they are the same, just smaller and in prettier colors than the dog ones.
Tom was pretty excited to get the carpet cleaner. He snagged that right away for use in his truck.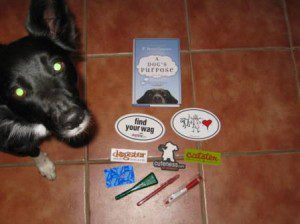 Stickers and stuff: We also got a copy of A Dog's Purpose by Bruce Cameron. I've not read it yet, but I met Bruce ages ago at a Colorado Authors' League event, and he is very funny. So, we'll see.
And, yes, Lilly was VERY interested in everything in the schwag bag, and I simply could NOT get this photo without her in it.
And, last but not least …. a COSTUME.
Once upon a time, I was a girl whose dogs wore costumes (home-sewn ones), but I've since changed my perspective on this. It's fine, if your dog likes it, but clearly … Lilly DOES NOT!
It doesn't help that it's WAY too small (even though it's listed as a Medium). Rest assured, the costume will go to a good home. I'm pretty sure that it'll fit one of our dog trainer's Jack Russell Terriers.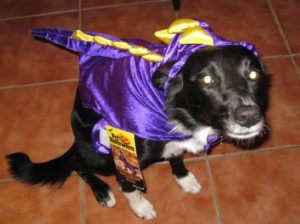 Blogger Schwag Debate
There is a lot of buzz in the professional blogger community about how much schwag is too much. Personally, I don't think BlogPaws has yet passed the threshold that says … "Seriously, people! Enough is enough."
Everything we received will be used. If not by us, then by someone to whom we give the items.
I'll probably write about things we really like because I think you might like them too.