Wish List: No Seizures, Full Recovery, and SLEEP
All of us at Chez Champion of My Heart remain in awe of the outpouring of love, support, and prayers in the wake of Lilly's near-death experience with meningoencephalomyelitis. We have one more request … in addition to sending mojo for NO seizures and FULL recovery, please add SLEEP to our wishlist. We are tired!
Lilly has monster insomnia from the steroids (we assume). She only sleeps for 15-30 minutes at a time. Of course, it doesn't help that she is crazy thirsty and needs to pee all the time — day and night — as well, but it breaks our heart that she hardly sleeps.
She cried, whimpered most of last night. In other words, no one around here is getting much sleep.
Meningoencephalomyelitis: Symptom and Recovery Update
So, the no sleep thing isn't doing any of us any good. Even during the day, as these photos show, Lilly hunkers down, but she doesn't just sack out for hours on end.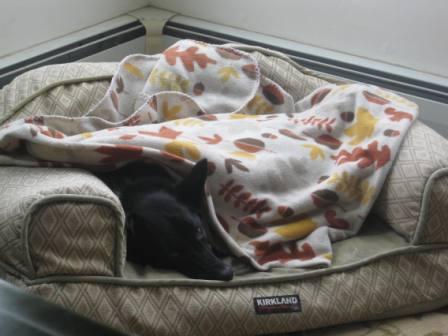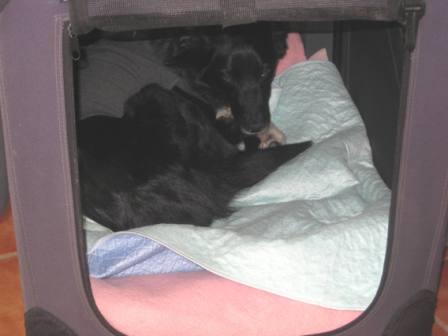 Lilly remains seizure free. However, she gets head tremors, including teeth chattering. When it happens, she sounds like a little jackhammer. It's so sad.
Lilly also continues to get the occasional nose bleed, which is somewhat concerning and might indicate a side-effect from last week's chemo.
BUT, we have some good news too. Lilly is now strong enough (mostly) to hold herself up to pee, even in the snow. She still needs help staying steady when she poops, but she can now pee on her own … without one of us holding her up by her Canine Equipment Ultimate Trail Pack harness (from RC Pet Products).
As another example of her growing strength and control, check out today's video showing Lilly doing a simple SIT.
Our final example of Lilly's recovery comes from this sight I found while working on this post. One way or another, Lilly climbed on the loveseat (protected by an old comforter) all by herself. She promises she won't fall off, but we're not so sure … so we put one of her Lilly Pad dog beds on the floor below her. Just in case.
You can tell by the look on her face that she still feels like crap, but she is getting stronger.
If only we could get some decent sleep …