Fun With Dog Brains, The Latest Lilly News
Another silly week comes to a close. Lilly received 4 more cytarabine injections Tuesday and Wednesday (that's cycle #11, if you're keeping tabs). Somehow, I ended up with 7 client conference calls this week, including 5 full hours on the phone Thursday. Sheesh! Just a little news this week.
Dog Incontinence News
While we've certainly had our share of diaper changes and overnight laundry, Lilly seems a tiny bit better on the urinary front.
She has peed (almost) on her own at least once each of the last 4 days.
She had one completely dry / clean night.
However, there have been a couple doozy messes this week as well. Poor sweetie. I keep her as clean as I can, but it's pretty awful when things STICK to her furry bottom. Not to be too graphic, but one "cow patty" — as we've taken to calling the smooshy messes — didn't fall off when I removed the diaper, and it was still clinging to her after I'd gone inside to get supplies to clean her up.
Several pitchers of water, a 1/2 roll of papertowels, and a lot of soap later, Lilly was pretty clean. She even wiggle-wagged a bit after I rinsed her off.
Cytarabine Injections
Tom handled both trips to the neurologist on Tuesday. I did the two trips on Wednesday. Everything went fine. Lilly is adjusting to the new hospital and is barking a lot less at the activity in the lobby while we wait.
She still demures a little when the technicians ask her to follow them to the back for her shots, but they always return telling us what a good little patient Lilly is.
It broke our hearts Wednesday morning to see 2 back-to-back neurological emergencies come in to the hospital while we were there. Both families had pets who were suddenly suffering seizures. It's so hard in those early / scary stages in cases like that.
I fell to the floor sobbing when Lilly began having seizures in early February 2012, so these folks were doing a lot better than I did, but it was still wrenching to see them suffer and worry.
Miscellaneous News
Before leaving on vacation, Lilly's new neurologist emailed me to announce his absence. He ended his note by saying, "Give her a kiss for me."
Lilly goes back next Wednesday for her follow-up urine culture and bladder ultrasound. (She'll spend the afternoon with our main veterinarian that day.)
Lilly's stamina remains poor. About 10-20 minutes of mild exercise is about all she can do.
Her lips and nose aren't (yet) showing side-effects from the cytarabine.
Lilly seems pretty steady. Not fantastic, of course, but steady. No real improvements, but no real setbacks either.
Much of this week, Lilly slept soundly under my desk while I worked. (I love listening to her nose whistle.)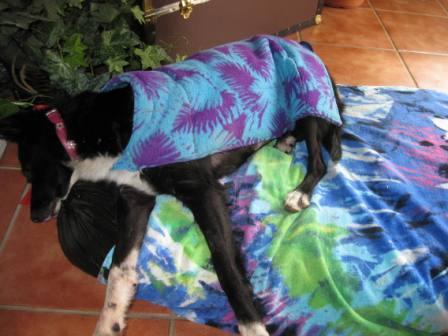 Rox Medical News
I didn't want to scare anyone, until I knew what was what, but I had some major medical tests myself last week. I'm happy to report that the biopsies came back negative. Doctors found some not-ideal things during their Fantastic Voyage through my entire GI system (end to end, not kidding), but the areas of inflammation / swelling / not-right-looking tissue came back negative for:
Celiac disease
H-pylori bacteria (that causes ulcers)
"Cellular changes" (aka cancer)
So, while I still feel like crap from unrelenting acid reflux, the symptoms are not caused by or causing anything scary. I may feel like I'm rotting from the inside out, but that's not the case.
Good news!
I'm going to try a few more dietary shifts and some new meds and see where that gets me.
Just a few tips from your pal, Rox …
The "prep" for a colonscopy means not only what you think it means, but it can also lead to awful hypothermia. I shivered for hours. Not fun. So, super-heat your bathroom and bundle up, if you have to prepare for a test like this.
Ask about the teaching status of your medical facility. It turns out mine had some brand-new staff and others curious about the process of a full scope, so I agreed to let them watch, but I was pretty much mortified. (Thanks to very good meds, I don't remember a thing.)
IV sedation for tests like this can be harder to do for people who regularly take anti-anxiety meds. (I almost NEVER use mine, but they wanted to know before they started.)
Coming out of IV sedation like this is a bit like having a Truth Serum in your system. Apparently, I was chatting up a storm and saying all sorts of hilarious things to Tom and the recovery room nurses. He swears I kept going on and on about how he was the BEST sweetie in the whole wide world. Ha! Anyway, be sure your transportation person or the friend or family member who sits with you in recovery is someone you can trust with your "secrets."
One Last Blog Note
We're experimenting with a blog post button (at the very bottom of posts) where you can send it to your Kindle, if you'd like to read it later. Let me know what you think, if you try it.
There is also a way for me to make the blog available for Kindle (like a subscription). If you're interested in that, please let me know as well.
More Snow Coming
We might get as much as another foot of snow tonight and tomorrow. I'm desperate for spring, but what can you do?
I have 3 huge loads of laundry outside on the clotheslines. I hope they dry before the storm hits.
It has been a LONG week, with chemo and everything else, so I'm off to clean my house NOW so that I can relax this weekend.
Have a great one!