Canine Brain Inflammation Surge and Other News
Hectic doesn't begin to describe the last week or so. In addition to learning about Ginko's scary heart problems, all kinds of things went wrong deep in the programming bowels of our blog site. Then, Saturday night, Lilly suddenly tanked.
Canine Brain Inflammation Surge
During the day Saturday (October 12), Lilly went from wobbly to really wobbly and weak to falling a lot … to barely being able to walk. Since she continues to battle 2 bladder infections, the wobbly wasn't unexpected, but when the symptoms progressed so quickly, I knew something was wrong.
Springing into action, I did the following:
I gave Lilly an extra 1 mg dose of her steroid dexamethasone. She usually gets 1 mg in the morning only. I gave her an extra pill around 9:30 pm.
I emailed our veterinary neurologist, telling him I wanted to start giving her 2 mg of dex in the morning (for at least a week) and asking if I could give Lilly her cytarabine injections 2 days earlier than scheduled.
He emailed back at 11:30 pm, saying he agreed with BOTH ideas.
Having access to him like this likely saved us from an Emergency Room visit and likely an expensive hospitalization.
The overnight and Sunday were rough going with several very messy diapers, requiring major clean-up. Seriously yucky!
Lilly slept most of the day Sunday and needed our help to walk, using her harness with the suitcase handle.
Monday, Lilly looked a tiny bit better. She still fell down a good bit and slept a lot, but she looked better … definitely NOT worse, which is all you can hope for sometimes in a neurology case.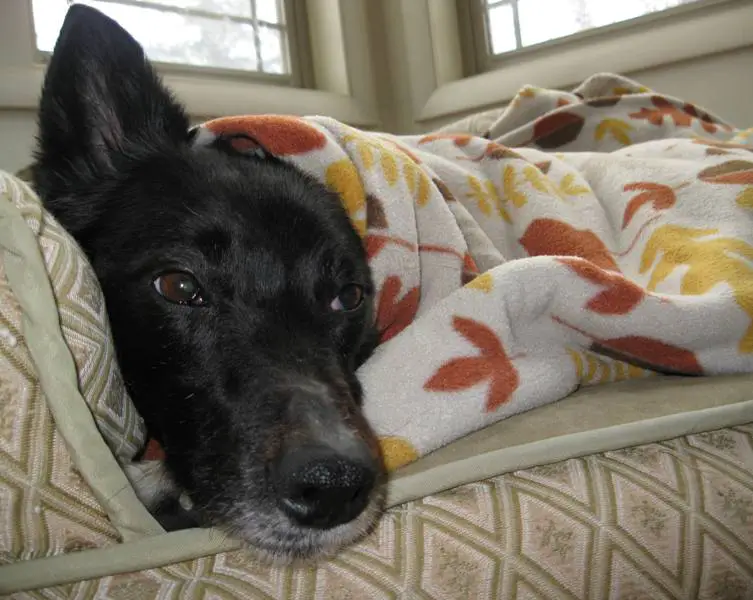 We've had more cold and snow Monday and Tuesday this week, so Lilly spent part of Tuesday morning under a blanket in front of the fire — cuddling with her Daddy — while I did an early morning phone interview for an article I'm writing this month.
Her snout looks shiny because it's going bald.
I'd like to point out that being able to do Lilly's cytarabine injections myself at home saved us in this situation. Otherwise, we would have been scrambling to get someone from our veterinary neurology team into the veterinary hospital on a Sunday, and I would have been driving up and down the mountain 4 times in the snow to get her injections done Sunday and Monday.
So, yay!
We won't know if we jumped on this relapse fast enough or not until the next weekend, when Lilly's cytarabine reaches full effect.
Other News
Bladder Wars News: Lilly goes in Friday (October 18) for another urine culture to see if we've beaten the infections fully yet.
LIVE Web Event Cancelled! The planned Sunday, October 20, LIVE web event has been cancelled due to lack of interest. Only one person asked to attend, and it was someone we know in real life. Completely humbling and embarrassing, so we won't try that again. Maybe instead, we'll field questions and put the answers into video clips that people can watch any time.
So, to celebrate the 9th anniversary of Lilly's adoption, we'll soon publish a guest post from the adoption counselor who approved us as Lilly's new family back in 2004. Look for that later this week.
Snow flurries continue here on Lilly's mountain (4:45 pm or so on Tuesday), so we'll sign off for now to start thinking about dinner and a full night of snuggling.