Adverse Rabies Vaccine Reaction: The Year in Pictures, Part 3
Over three days in early August 2012, Lilly went from a good, steady recovery to near death. Tired one day. Wobbly the next. Bordering on coma the next. Her adverse rabies vaccine reaction (massive brain inflammation) had returned with a vengeance. It had been 6 weeks since our 4th attempt to wean Lilly's steroids. She had a few smaller setbacks when we lowered her steroid dose in the spring, but nothing compared to this total collapse.
August 9, 2012
Hospitalized AGAIN. Another MRI and spinal tap were planned as soon as Lilly is "stable" enough for anesthesia. At this point, Lilly had high fever, a scary low heart rate, and almost no awareness of things going on around her.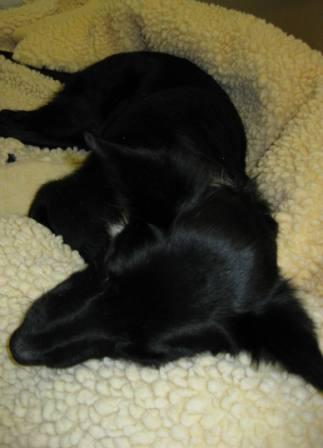 August 10, 2012
No real improvement.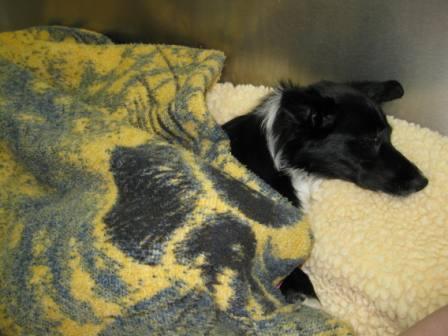 This video shows us trying to get Lilly to eat something. She is very weak. Again, if you cannot see the embed below, please use this link. 
August 11, 2012
After getting a couple of days of massive steroids and other aggressive treatments on board, Lilly improved and at least knew when we were there to visit and want to cuddle.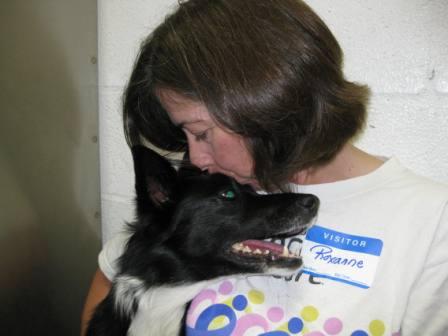 August 12, 2012
Lilly still had trouble regulating her body temperature, but she could sit up with help.  We thought she looked a little like Yoda here.
"The Force is strong with this one."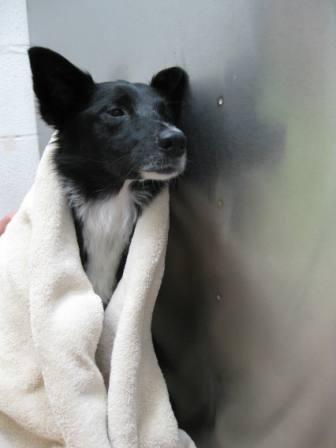 August 13, 2012
Lilly got to come home after another week-long hospitalization. She could NOT stand or walk when she came home this time. She even had trouble maintaining her "balance" while recumbent, so we boosted her up on her bed with rolled up towels as bolsters … to keep her from falling off her bed on the floor.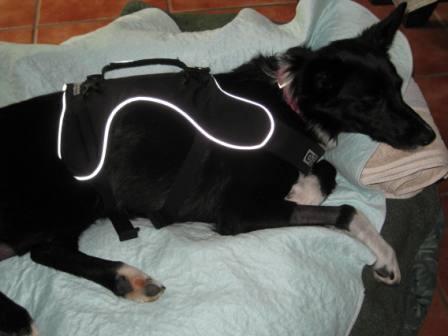 August 17, 2012
Lilly eventually regained her ability to stand and walk, but you can see that her rear end was quite weak. Even now, Lilly sometimes stands "like a German Shepherd with bad hips."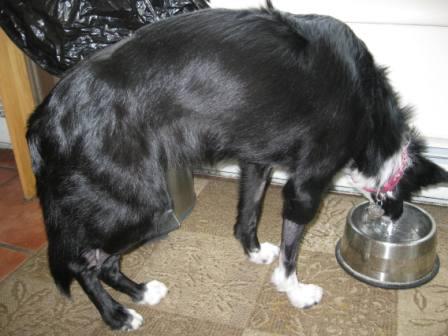 September 2012
We finally accepted that the total incontinence wasn't going away any time soon. Lilly began wearing washable denim dog  diapers lined with a 1/2 of a women's incontinence pad. It still makes me kind of sad to see my beautiful girl in a diaper, but we think she looks pretty cute in her Blue Jeans.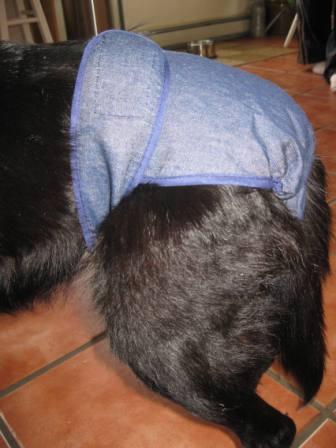 Tomorrow, we'll share photos of Lilly's "second recovery." I didn't appreciate her first one for how good it was. This time, things are tougher. She has not bounced back as well in terms of strength, agility, stamina, coordination.
When you consider how MANY meds she takes EVERY SINGLE DAY. And, when you consider how well she handles the "chemo" injections every 3 weeks, it really is something to see.