Wordless Wednesday: Lilly's Long Lost Twin
A few times each year, since we launched the blog in April 2007, we receive fan mail that includes pictures of dogs that make us laugh because they look SO MUCH like our canine heroine. Here is the latest. A puppy named Devlin.
While he may look like our Lilly, I'm happy to report that Devlin carries none of the fearful troubles. He has less white on his face/chin and more on his tail, but what a sweetie bug!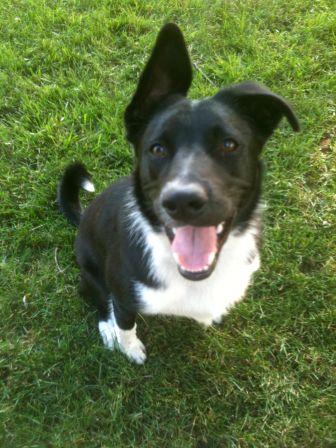 You can follow Devlin's mom Christina in Twitter to participate and enjoy their adventure at writing a book about life, dogs, love, etc.
***

Please participate in our success.
Voting for 2011 Best Dog Blog ends July 29 (this Friday).
Remember you can vote each day (1-2 times). Other nominees are asking for more votes per day, and indeed the site will let you vote, and vote, and vote … though, we've been assured that "excessive voting" will not count. Since no one really knows what excessive voting means for sure, I'm simply asking that you vote EACH day … however many times YOU feel is fair.
Please VOTE Champion of My Heart as Best Dog Blog!
If we're chosen, we'll give the $1,000 donation that's part of the prize package to our friends at Humane Society of Boulder Valley.