Updates: Canine Genius, Probiotics, Kyjen Invincibles
Life remains silly-busy here, so today (just a quick post) I wanted to share a few updates to recent posts about Canine Genius / Kong Genius, canine probiotics, and the Kyjen Invincibles (snake toy).
Sometimes good info gets added and discussed in the comments, and I worry that people might miss it, so here are just a few details I wanted to share.
Buy Canine Genius Toys – ORIGINAL Design
Best Friends General Store still sells the ORIGINAL sizes/designs of the Canine Genius toys (not the new, flawed version called Kong Genius). So, if like me you're disappointed in the newer version, you can still buy the original toys with the smaller x-shaped slots.
Recommended Canine Probiotic Amounts and Types
Even though I did get the CFU (colony forming units) per serving of Pro Active Balance, veterinarian Ken Lambrecht replied: "While I appreciate their efforts to answer the question all of the board certified veterinary nutritionists I have quizzed on this feel that 5 billion CFU's per capsule (would take 3 cups of active culture yogurt to equal!) is the most effective dosing. Common organisms are Lactobaccilus (4 different species), Enterococcus faecium, & streptococcus thermophilus but not the organism they have listed."
Maybe NOT Entirely Invincible
Our Kyjen Invincibles (snake toy) indeed continues to squeak, despite lots of biting and tugging and play. The rattler in the tail, however, is dead. Lilly became increasingly obsessed with the tail.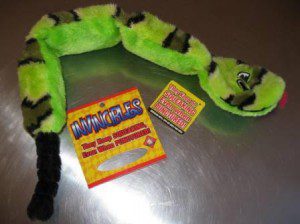 Tom says it's because she HATES rattlesnakes after two bites in two years. (Details on this summer's rattlesnake bite.)
Alas, while we watched a movie Friday night, Lilly hunkered down in front of the fireplace and nibbled a hole in the snake's tail. So, I removed and disposed of the plastic disk containing what looks like small rocks.
We've started calling this toy "Vince" (from invincible) so that she doesn't associate the word "snake" with something fun. (It doesn't look nearly this clean anymore.)