Taking the No Shock Collar Fight to Store Aisles
A while back, Stephanie Feldstein, the animals editor for Change.org, contacted me about our Never Shock a Puppy efforts. She asked a bunch of questions via email. I answered, and the result is this blog post. Many thanks to her for the interest and enthusiasm.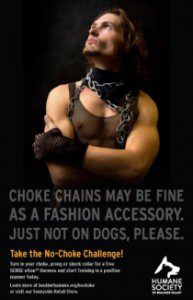 [Speaking of news … Humane Society of Boulder Valley is launching its No-Choke Challenge today. The graphics are to die for. I promise we'll write more about it in the coming days. Stay tuned!]
Now, Back to Our Scheduled Topic!
Lilly and I are so pleased that we can return the favor to Stephanie by asking those of you who agree with our very public stance against shock collars to sign this petition, asking Petsmart to stop selling shock collars. Please.
Hey, Petsmart, Put Your Money Where Your Mind Is
Or your mouth where your money is… or your shelves where your heart is… or some clever thing that I can't quite work out yet.
Here is the beef.
Petsmart uses and touts reward-based dog training through its in-store dog training classes. During a tour of a Petsmart store as part of a VIP thing at the first BlogPaws event in Columbus, Ohio, last spring, our tour guides explained how Suzanne Hetts (who is a PhD animal behaviorist here in Colorado … I've known her for ages) helped develop the dog training programs Petsmart offers.
The company's promotional materials for the classes brag that reward-based training is "scientifically proven to be the most effective method," … yet, just down the aisle from their in-store classes, the company sells shock collars.
Wouldn't you love to know how many they sell? Or, how much money the stores make off of shock collars? Do you think they make more from dog training classes or from shock collars?
The reporter in me is dying to know, but really … all that I care about … is that they stop selling shock collars both:
Because I oppose them on principle
Because people who buy them over the counter (as it were) are likely ill prepared to use them properly (if there is such a thing)
There is a widget in our blog sidebar for the petition, but we're also posting it here.
We'd love your support.
This post is part of the quarterly Be the Change For Animals blog roundup.
Check out the other causes pet bloggers are promoting today!