Social Media Blitz: Phoenix
This plea for a new home for this kitty, who currently lives in Highlands Ranch, Colorado, came via a longtime friend. I've posted on Facebook and on Twitter, but I promised to post here too.
Here is what Phoenix's current mom had to say: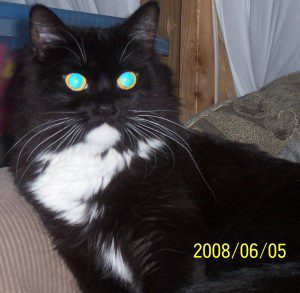 Phoenix, (FiFi) for short, is 2 1/2 years old. We've had her since she was 6 months old, when we adopted her via Petsmart.
Unfortunately, I did not introduce the cats correctly, and she was thrown into the house with my 9-year-old [bossy] cat.  She is super sweet, loving cat, but he stresses her out.
She has claws, but NEVER scratches furniture… I promise you can check out my furniture!  She doesn't even flex her claws when kids pick her up.
She loves to be loved.  My older cat is just so ornery that the vet has said she needs to find a new home to live in or be given anxiety meds daily.  (I can't  imagine shoving a pill down her throat on a daily basis, and we don't know if that would really work).
She doesn't mind dogs and is current on her shots, spaying, and will come with food as well.  I feed her Purina One for indoor cats.
She LOVES soft food and will go nuts to get it.
I also have a cubby box bed that she loves also and will go with her.
I just don't want to take her to the Dumb Friends League.
Anyone interested email davidharrell2@comcast.net
Thanks,
Sarah Harrell