To celebrate the 5th Anniversary of Champion of My Heart, we're doing our biggest giveaway to date — a high-end air purifier from Oreck (retail value around $400).
On April 13, 2007, which also was a Friday the 13th, we began Champion of My Heart. Since then, Champion of My Heart has become an award-winning dog blog of some note. Thank you!
To celebrate, we're giving away ONE Oreck AirInstinct air purifier through a random drawing of qualifying entries.
Product Review: Oreck AirInstinct 200 Air Purifier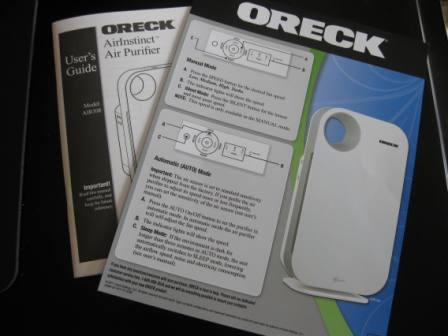 This isn't a wimpy or average air purifier. This bad boy has a three-stage air filtration system, including a 3-year HEPA filter that captures 99.97% of dust, allergens, smoke, pet dander and pollen as small as .3 microns from the air that passes through the filter.
Since I've always been an allergic girl, that intrigued me. Technically, I'm allergic to dogs, but can you imagine my life without dogs? Yeah, me either!
While I'm allergic year round, my severe allergy season runs from April through October, so I cannot report on the effect (if any) on my allergy symptoms yet.
The AirInstinct 200 Air Purifier also features an automatic mode, where the device speeds up or slows down air processing based on need.
For example, when the sun swings around and shines in my office windows in the morning, that warms the air in the room, which gets things flying as warm air rises. The air purifier automatically worked harder until it had processed anything kicked up by the warmer air, then it would slow down again.
There is what I've been calling a "mood light" that tells you just how hard the air purifier is working:
Monitoring is blue.
Low is sort of a purple.
Medium is more pinkish.
High is full-on red.
I find the white noise of the lowest setting and the mood lighting kind of restful as I work.
Pretty often, for reasons I don't understand, the automatic mode of the air purifier goes on full blast when I'm doing phone interviews or having conference calls. In those cases, mostly because I'm trying to listen and engage on the phone, I find the higher speed noise a bit much.
Automatic Mode Funny!
The funniest thing I noticed about the Oreck AirInstinct 200 Air Purifier automatic mode is that it went on FULL BLAST every time Ginko walked by the device.
It became a running joke. We'd ask him, "You stinky much?"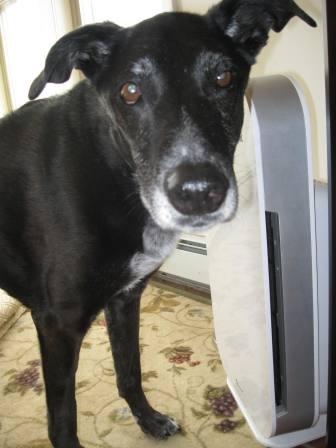 Oreck AirInstinct 200 Air Purifier Giveaway Rules!
You must be at least 18 years of age.
You must be a resident of the U.S. 48 contiguous states, with a valid email address and (if asked, if you win) a valid shipping address.
You must report back here, by posting a blog comment to this blog post, about the steps you took to earn an entry into this random giveaway.
For each step you take, you earn one entry. You can report more than one step in your blog comment. No need to post multiple comments. The deadline for entries is midnight mountain time Friday, April 27, 2012.
How to Earn Entries:
You must visit Oreck.com and come back HERE to tell us one thing you learned about the AirInstinct air purifier.
You can also follow Oreck on Twitter – @oreck.
You can also LIKE Oreck on Facebook.
You can also sign up for Oreck's email list (click on "Sign up for Email" in the top navigation bar and enter your email address)
And, finally, you can tweet that you've entered our giveaway with the following tweet: I just entered to win an @Oreck air purifier from @champofmyheart. http://su.pr/1rYr9J
***
Remember, you must come back here and post a comment to this blog post telling us what steps you took to finalize your prize entry / entries.
We'll accept entries through midnight mountain time Friday, April 27, 2012. Then, we'll assign numbers to each valid entry and use a random number generator to pick a winner.
We'll contact the winner via email (so be sure to give us a valid one in the right box when you post your comment) so that we can get your shipping address and give it to the folks at Oreck … who will ship the air purifier directly to the winner.
***
FTC Disclosure
Oreck sent me an air purifier for FREE so that I could try it out in advance of this product review. I was not, however, compensated in any other way to post the review.
Champion of My Heart is the official sponsor of this giveaway. Oreck Corporation provided the prize for the sweepstakes but is not the sponsor of the sweepstakes.