Petfinder Big Birthday Bash, July 15-17, 2011
Today is one of four annual Blog the Change Days, where pet bloggers promote their favorite people, organizations, and events that improve the lives of animals in communities all over. The girls of Champion of My Heart decided to promote Petfinder's Big 15th Birthday Bash. The goal? To get 15,000 pets adopted this weekend. Whew!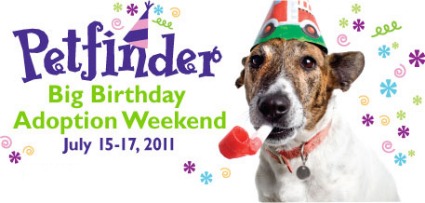 If you know anyone … and I mean ANYONE … who *might* be in the market for a new furry friend, please, please send them this link to the Petfinder Big Birthday Bash page [link = http://www.petfinder.com/info/birthday], where they can:
Use the shelter-search tool to find local participating adoption groups
Browse some of the most-adoptable pets taking part in the celebration
Download customizable flyers to promote adoption events
Make a donation to the Petfinder.com Foundation to help homeless pets
Sign Petfinder's Birthday Card, including a photo of your pet
I checked out local happenings and found 17 shelters and rescue groups in Colorado taking part, including our favorite Humane Society of Boulder Valley (where we adopted Lilly, our canine heroine).
So … happy, happy birthday, Petfinder. I cannot imagine 21st-century pet adoptions without you!
And, fans and friends, thanks for learning more about Petfinder's Big Birthday Bash Pet Adoption Extravaganza. I hope you'll share the news on Facebook, Google+ and such. Have a great weekend.!