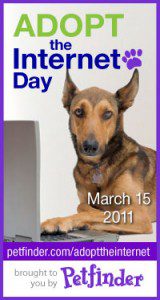 Congratulations to Petfinder on CHANGING the pet adoption world forever 15 years ago. Truly. Both via online access and the popular app, people use Petfinder a LOT to search for adoptable pets. It was a terrific idea, then. It's a terrific idea now. In celebration, here is our Adopt the Internet Day post.
Adopt. Don't Buy … I'm Begging
While attending a local non-dog event recently, I realized just how much education is still required about the horrors of puppy mills and the pet store puppy sales that support them.
ME: So what kind of dog do you have?
An old English sheepdog
[Our family dog when I was a toddler was an OES, so I was super excited.]
ME: Where did you get him? [assuming a "good" breeder because these dogs are kind of rare]
A pet store
ME: You know that's bad, right? [thinking I'd hear the "we saved him" thing people say]
The puppies just come from breeders.
ME: Bad ones. [oops]
***
To turn my conversational flub around, I cruised through the Petfinder Gallery of All Stars and chose this dog to champion today. Of course, a border collie. Breezy (based on foster home notes) is a fearful girl.
Want to help:
Tweet her link with the hashtag #adopttheinternet
Post links to her profile on Facebook with this message: More than 320,000 pets are waiting for homes on Petfinder.com. Help Petfinder Adopt the Internet today and find forever homes for as many as possible!
Social Media Blitz:   Breezy (a border collie in Maryland who needs a home)
According to her profile, "Breeze was part of a hoarding case and was taken from her owner as a pup. Due to a pending court case, she was housed in a shelter for the next 3 (yes, 3) years with little human contact or time outside of her indoor kennel."
She has been in foster care for 15+ months.