Watch This Petfinder 20th Anniversary Video
Please help !! If this Petfinder 20th anniversary video #MetonPetfinder gets 1 million views before October 24, 2016, then Petfinder will donate $200,000 to the Petfinder Foundation, and 20 shelter / rescue groups will each get $10,000 grants to help them do more for pets in their communities. It's that simple! And, the video is only 1 minute long.
[This is a #sponsored post. #PurinaPartner]
Get Involved ! Petfinder 20th Anniversary #MetonPetfinder
Here are some ways you can help Petfinder celebrate this big anniversary!
Petfinder 20th Anniversary Facts and Figures
Since 1996, Petfinder has helped facilitate more than 25 million pet adoptions through its shelter and rescue member organizations.
That's an average of 1.2 million pets per year who have found their forever homes via Petfinder.
Tips for Adopting Your Next Pet
Along with Petfinder, Champion of My Heart encourages more people to consider adoption when adding a pet to their family. Online innovations from Petfinder remove barriers from the adoption process and make finding and connecting with the right pet for you much easier!
While I did NOT find Clover through Petfinder, I did use the site as part of my greater search when I started looking around at my options.
My strategy included:
Setting mileage limits on how far I might be willing to drive to meet and adopt a dog or puppy
Setting breed, age, sex, and size limits on my search so that I wasn't overwhelmed with options (Yes, I prefer female dogs, but if the right male dog had come along, I would have considered him.)
Really looking into the kinds of shelters and rescue groups within driving distance that specialize in border collies, if the group or shelter was willing to adopt to someone who was not local to them (Some won't.)
Browsing regularly (weekly at least) at the newest dogs and puppies within my limits that had been posted on Petfinder
Pet Adoption Open Mind, Open Heart
I encourage you to browse online for adoptable pets with an open mind and heart. I know myself well enough to know what breed and what temperament of dog I'm best suited to raise.
However, I also know people who go looking to adopt a dog or cat and just stumble upon a great new friend who isn't at all like any pets they've had in the past.
And, if you have been following Clover's story for the last 2 years, you know that my distance limits got blown out the water. Clover FLEW to me on a plane from Virginia to Colorado — after I saw her adoption photo and profile on Facebook … which is a miracle since FB greatly suppresses posts from shelter and rescue group pages (unless they pay to promote posts … which I've tried and seen DISMAL results).
Here we are near the airport on the day she arrived in Denver. Best. Day. Ever!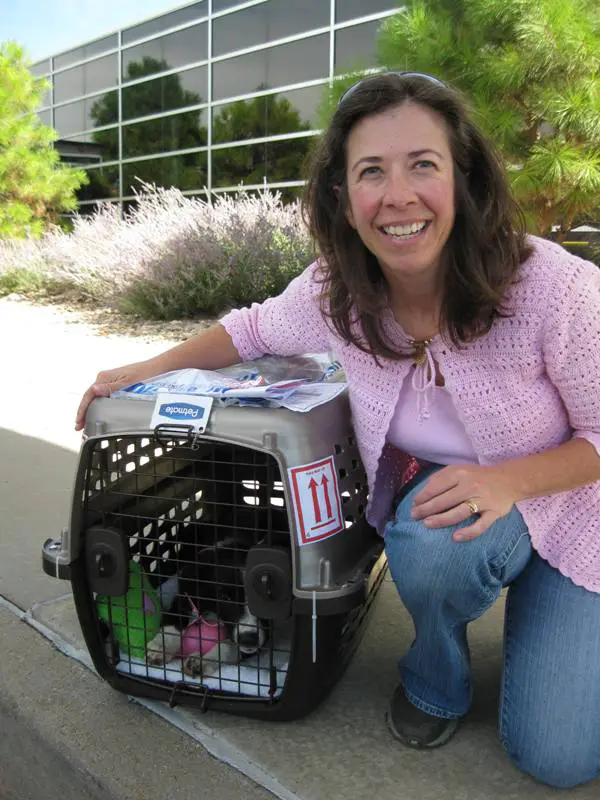 I'd love to hear your #MetonPetfinder story … if you want to share it in a comment below!