Pals Edie Jarolim from Will My Dog Hate Me and Amy Burkert from GoPetFriendly.com teamed up on this Pet Blogger Challenge, where they urge folks like me to ponder some of the bigger questions about why we blog.
Both of them wrote recently about feeling "bullied" by their blogs. So, in an attempt to rally the troops and perhaps do some very public group therapy strategic thinking, they asked these questions.
In the name of all things holy, here are my answers. It's part brag, rant, and whine … all jumbled up because as far as I can tell, that's real life.
1. When did you begin your blog?
April 13, 2007 (It was a Friday. How is that for tempting fate?)
2. What was your original purpose for starting a blog?
I wanted to build both content and an audience for a book about Lilly. I figured that blogging would also give me a chance to play with topics and narrative forms that I don't typically use in my work as a journalist / reporter / professional writer … even though I do write so much about pet / dog / veterinary / pet industry topics.
3. Is your current purpose the same?
Yes. I'm researching and writing the book proposal now and hopes that my agent gives the idea the green light and takes the idea to market.
If so, how do you feel you've met your goals?
Clearly, I have stockpiled an avalanche of content from which I can draw for a memoir about my life with Lilly after all these years. We posted our 1,000th blog post recently. And, I have a running list of the various adventures that would make good book chapters. Am I the only one who sees the strength of a fleshed out story about Lilly and the Technicolor Vomit?
As far as building an audience and beefing up my platform, which includes pet writing (dog writing in particular) dating back to 1995 in MANY national magazines and outlets (both pet trade and consumer ones), well … I guess we'll have to see if the powers that be think we have enough of a following (here, on Facebook, and on Twitter) to garner a publishing deal.
Do I wish our traffic was bigger? Of course, but I see far too many bloggers doing all kinds of things purely to build traffic, and the cynic in me sees right through it.
A talented blogger friend recently asked if we're all "racing to the bottom." By that, he meant that often those with the biggest traffic numbers have the worst content:
Not helpful
Barely cursory
No heart
SEO-obsessed
Personally, I have and ALWAYS will write for the READER FIRST. Blogging, like any other written medium, is foremost about the people who are drawn to our STORY, to our message, to our community.
I would rather have a small network of loyal readers who really know us than masses of people looking for lowest-common-denominator content.
I think the real key is knowing your niche. There are all kinds of dog bloggers, and I know where I fit in that world. And, I like to think I know where my readers fit too. That's why I turn down SO MANY topic / link / ad / product pitches. They simply are not a fit for who we are.
(In fact, I've been asked to speak at the American Society of Journalists and Authors conference on April 30, 2011, in NYC, on this topic … how to find, define, and maximize your blogging niche.)
4. Do you blog on a schedule or as the spirit moves you?
Very early on, I blogged three times a week, but I quickly went to 5 days a week (M-F). I've tried blogging every day as part of various blogger challenges, but since I write for a living and consider the blog real work, the thought of writing for every weekend on top of all my other deadlines slides too close to not having a life.
If the former, how often — and what techniques do you use to stick to it?
The trick for me is treating it like my job because it is. I really do write for a living. It's my ONLY source of income. In other words, I don't have another job that somehow benefits from my blog work.
I find that I'm MUCH more efficient if I write the entire week (5 posts) in one sitting (usually on Monday afternoon). If I drafted one post each day, I would fiddle around and poke at the words too much, and I would spend too much time.
I truly do understand that others feel bullied or stressed by a consistent blog posting schedule, but as someone who has worked in various forms of "media" since 1990, I perhaps take a different view.
People talk about social media like it's something oh-so new, but to me, it requires the same skills, the same effort, the same discipline as any other media form that I've written.
Consistency matters. As do schedules and deadlines.
Why?
How you would feel if your favorite TV news show only went on the air when the reporters felt like it?
Or, what about the magazines you love? Don't you think those writers and editors could use a break once in a while?
It may not seem like it all the time, but I think our readers count on us. Personally, I feel like I owe them a consistent presence.
And, in my world, people who don't make deadlines get fired.
5. Are you generating income from your blog?
Nope.
Because I work as a professional journalist, many of the things other bloggers do to make money are things I cannot do for ethical reasons.
I would like to have ads, but the problem with most blog ad programs is that the writer has NO control over what shows up (example, Google ads). And, because I *am* my own "brand," if you use that lingo, and because I do have such strong beliefs/opinions on certain dog topics, I simply cannot risk having a shock collar ad or some horrible dominance trainer's ad showing up on my page.
If not currently, do you hope to in the future — and how?
I'm considering approaching advertisers on my own, but only ones whose products I truly like (on my own accord).
I do have some banner/badge ads up right now, but I'm doing those mostly as an experiment.
6. What do you like most about blogging in general and your blog in particular (bragging is good!)?
Hmmm … I like that I've "met" (online, in person, or both) so many terrific people. I like that I can work through tough dog behavior issues with the help of other like-minded handlers. As a writer, I like that it gives me a space to "tell stories" and play with words.
I'm also happy that our hard, hard work in dog training and behavior modification can help others, including things like posting the audio files of the Relaxation Protocol (which is the #1 reason newcomers visit the blog).
We're pretty pleased with our first Be the Change effort, called Never Shock a Puppy. Our coalition:
Raised awareness of pain-free dog training
Gave away terrific prizes
Raised more than $2,500 for Humane Society of Boulder Valley, where we adopted Lilly in October 2004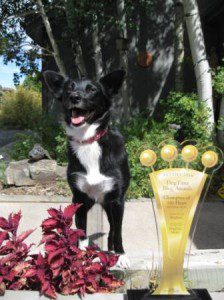 And, since this whole Q&A process might bring new readers, I'll brag and share that we won the 2010 DogTime Media Best Dog Blog Award. The link includes a video of my thank-you speech (about 7 minutes in), but basically … let me say that I mostly consider it a "vote of confidence" for what we have planned in the future (… the book deal).
7. What do you like least?
How much time I burn dealing with the technical side of blogging. I've figured out all kinds of things, especially with the redesign last year and move to WordPress, but I can spend an entire afternoon trying to solve one techno glitch, and it makes me very, very crabby.
And, if I'm being honest, I don't like the nagging feeling that everyone else is better at this than I am … but that could just be normal writerly insecurity.
When you work in such a competitive, rejection-soaked world, it's hard not to feel inferior once in a while.
If this seems strange to you, I highly recommend this blog post from The Writer's [Inner] Journey … What we talk about [to ourselves] when we talk about writing. The insecurities noted come from some of the most successful writers I know.
It doesn't help when fellow writers take what they think are humorous jabs at the pet blog market. Just last week, I got an email from the Colorado Authors' League (of which I was once the prez) that touted upcoming luncheon speakers by saying, "This isn't somebody blogging about her cats, not that there's anything wrong with that…"
8. How do you see your blog changing or growing in 2011?
Because I have the book on my mind all the time, I'll probably try to pay more attention to the narrative tone and structure of my posts … rather than simply (and quickly) saying what happened straight up.
Check out how others have answered these same questions. It's quite interesting.