Newsworthy! Good Dogs of America
So, the question is this: If your dog could earn merit badges for training accomplishments as simple as SIT or DOWN or being housetrained, would you take part?
That's the idea behind Good Dogs of America. Your dog could indeed earn 19 different dog training merit badges … from a local dog trainer who offers the program as an add-on to their current dog training curriculum.
Since most dogs already learn these various tasks and cues, it's a way to give extra kudos to the handler and dog.
The Good Dogs of America full program includes:
Bandanas that can be customized by the dog trainer (sold separately or given to families as part of the normal dog training class cost)
Iron-on merit badges ($3.99 each)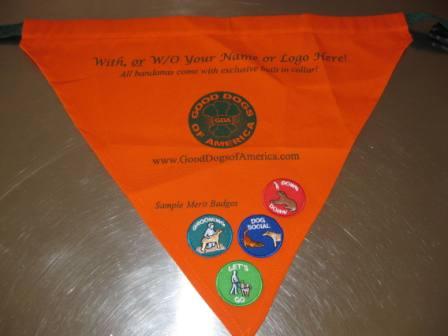 Benefits of Good Dogs of America
I'm not sure if people in our top 2% subset of dog families already doing a high level of dog training would get a kick out of this or not. What do you think? Would you do it?
As I see it, a program like Good Dogs of America would definitely encourage other dog families:
To do MORE (or really *any*) dog training
To feel a sense of accomplishment for their work
To encourage others to consider dog training
Because honestly … people stop me and Lilly ALL THE TIME when we are in public and say things like, "I wish my dog was that good." Like when Lilly automatically sits before we cross any street or step off any curb, people are amazed.
My standard answer is, "It isn't magic. It's hard work."
We know that vests make service dogs irresistible. And, bandanas are pretty cute too … without getting into the whole dog clothes realm. I can see the program really raising the awareness of dog training options in a community.
Plus, from the dog shelter world, I can also tell you that:
People think dogs who respond to (even) simple dog training cues are "super smart."
Dogs who have some training are less likely to be relinquished to (and possibly killed at) an animal shelter.
Good Dogs of America Merit Badges
I've browsed the various merit badges offered, and the ONLY one that Lilly probably could not get is the one for being a "social dog."
That friends, isn't her strong suit.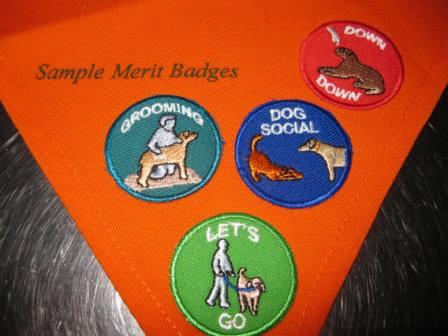 Well, and I've never taught "play dead."
I'll quibble with one thing, though. The Good Dogs of America merit badge for housetraining is called "house breaking," which in my mind is old-fashioned lingo that takes root in punishment. I suppose that's that regular people call it, but the term strikes the wrong tone for me.
***
Word choice issues aside, though … Lilly and I send out best congratulations to Brad Phifer, CDPT-KA, on this new project. I've interviewed Brad for dog training articles before, including this one on introducing a new dog into your dog family.
Brad is the director of pet behavior services for the Broad Ripple Animal Clinic and Wellness Center and head master for Bark Tutor School for Dogs in Indianapolis, Indiana.
He asked me to help spread the word about Good Dogs of America, and I agreed. I was not compensated in any way for this post.