Newsworthy: Ecco Goes to Westminster Kennel Club Dog Show
New York Metropolitan Opera star and animal lover Janet Hopkins will join Grand Champion Sweetbriar's Ecco D'Oro (Ecco) in New York for a musical good luck send off as he competes in the 2012 Westminster Kennel Club Dog Show. At 1 pm on today at the Hotel Pennsylvania in Midtown Manhattan, Hopkins will serenade opera loving Ecco with a favorite personalized Italian aria, "O Mio Babbino Cane."
The partnership between Ecco and Hopkins comes as a result of Ecco's work as Everyday Opera magazine's wine critic. How fun is that?
Connoisseur of Fine Slime meets Connoisseur of Fine Wine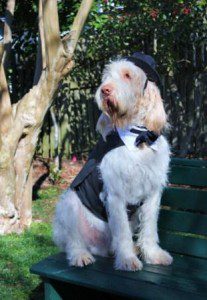 Ecco is a Spinone Italiano. This year marks Ecco's first visit to Madison Square Garden, where he will be vying for the top spot against some of the most spectacular Spinoni in the United States to represent his breed  in the Sporting Group competition at Westminster.
Check out this piece — The Secret Lives of Westminster Show Dogs, featuring Ecco.
Ecco has developed an internet following of dog fans who are taken with his mischievous nature and frequent online musings.
Lilly and I wish Ecco the very best at Wesminster and thank him and all his fans for the "pack attack" of love they showed us online, last week while Lilly was hospitalized with meningoencephalomyelitis.