The girls of Champion of My Heart first "met" Ecco D'Oro, a passionate Spinone Italiano (Italian pointer) with a penchant for stealing underwear and snorkeling in the koi pond, when we reviewed Ecco's human grandma's book about a Native American artist named Quincy Tahoma.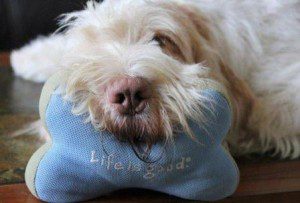 The truth? We were a little sad that we were not the first dog-based book reviewers on the scene.
Since then, however, we've made friends via the blog, via email, and on Facebook with Ecco and his many, many dog friends … who collectively put the "Power of the Paw" into action every day through both virtual and real community efforts.
We've watched Ecco D'Oro, canine philanthropist and crusader, do many great things:
Spread the word about lost or injured pets
Provide minute-by-minute info for people and pets in danger zones from fires and floods
Make donations to a variety of dog causes / pet charities
Offer funny mid-day trivia and Q&A hilarity
Give nightly lessons in the Italian language
Share hoot-worthy, snort-inducing photos of his antics (those with underwear stuck on his head make us giggle)
That's why were super excited to announce that VERY soon, he'll have a brand new website, where you can take part in his activities and even get seriously cute schwag from his "Nawty Dog Big Heart" line:
* www.eccodoro.com or www.nawtydogbigheart.com
* Ecco on Facebook (where he has 10 x the fans we do, stinker!)
* Ecco on TV (Ecco being funny and more on his charity efforts)
Ecco naughty? This angel on do earth … a bad boy?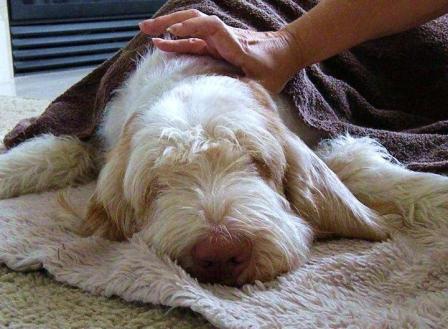 Um … yes. While Ecco indeed practices a higher calling in the dog world, he occasionally:
Steals unmentionables
Humps a lot and flirts shamelessly with the ladies
Raises a leg where he shouldn't
Ruins his extensive grooming (He is a show dog, after all.)
Plays Jacques Cousteau in the family koi pond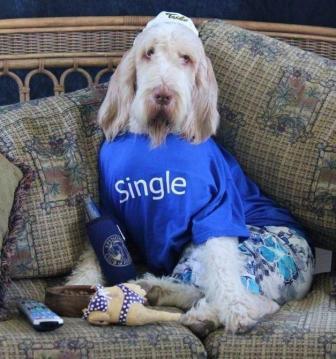 But, he is SUCH a lover that you cannot stay mad at him. Well, I cannot. Then, again, it isn't my coffee table that he's standing on.
While he occasionally gets mistaken for some sort of "doodle," he is indeed a purebred boy with a distinct personality and many, many competitive accomplishments.
Our biggest congratulations to him on all his successes and our best wishes on his future endeavors. If you decide to drop by his Facebook page, please tell him that Lilly from Champion of My Heart sent you.