Music Giveaway: Dog Country
Dogs embody magic and love. They live and breathe loyalty and support. They witness all our moments — good and bad. So, I suppose it's no surprise that they inspire art and creativity in those of us who make something from nothing in our daily lives … including, it turns out, an entire CD / album of country music about dogs.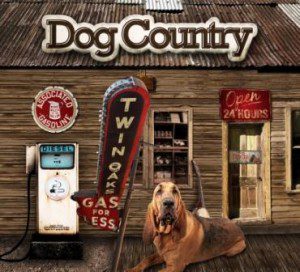 Dog Country, produced by Cloud 10 (an independent music publishing company based in Spring Hill, Tennessee),
features 10 songs from different artists.
I'm more of a bluegrass girl, but my favorite song from the album — "BeeBe's Riding Shotgun" — is about a gal and her dog out living their lives … after, it seems, some sort of breakup.
Consider it the classic he-done-me-wrong song with a twist. And, while, thankfully, I've not faced that brand of heartbreak, I like the idea of a couple of girls in the car, having a good day.
Sample Dog Country Music Online
Want to see what you think? You can preview each of the 10 Dog Country tracks and purchase a copy (either actual CD or via iTunes) through the album's site.
Car Safety for Dogs: A Tangent Discussion
Before anyone has a conniption, let me say that it really IS NOT SAFE for a dog to ride "shotgun" in the front seat of any car or truck … especially without proper safety restraint or when the airbags are turned on.
[We ultimately settled on the
Ruff Rider Roadie
in our quest for a solution when Lilly wants to or needs to ride shotgun with Tom in his truck.]
Make Us Laugh: Win a Copy of Dog Country
The album's producers will give away ONE copy of the Dog Country music CD through Champion of My Heart. To enter for a chance to win that CD, post a comment to this blog post and make me laugh by suggesting country music song titles about your dog. Bonus points for sample lyrics.
For example, songs about Lilly might include:
Doggy Dustmop Under My Bed
Being Bossy Suits Me
Back Off, Baby, Back Off
Deadline to enter is midnight (mountain daylight time) Friday, March 18, 2011.
The pretend song title that makes me laugh the most wins. Yes, it's subjective, but there you go.
I'll email the winner next week to get a shipping address, and Cloud 9 will send off the CD directly.
*** FTC Disclosure ***
I was not paid or compensated in any way for posting this CD / music review and giveaway.