Meet Joelle, The Pup Next Door
I'm late to the blogging party this particular Friday. My apologies. It's another one of those weeks where real life is simply too much. BUT, I wanted to show some photos of the new puppy in our valley. Her name is Joelle, and she is a German Wirehaired Pointer.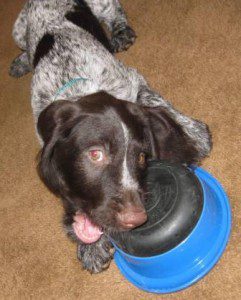 She is cute, Cute, CUTE. The teething is really something, but she is easily pawned off onto something other than human flesh.
Tuesday night Joelle came with her mom to the monthly ladies event in our valley known as Tea or Twine (depending upon how long you've lived up here). It was a GREAT opportunity for her to be socialized to many people, lots of noise and a new place. She did really, really well.
She had just woken up before hiking up the steep driveway to the party. Right on cue, she pottied (both ways) before going inside. She met people, got petted and held. She played. She snooped around.
THEN, she sacked out.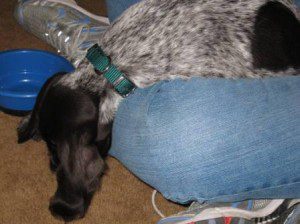 Here is a close up. We were giggling about how much she looks like Dumbo in this picture. Clearly, she needs to grow into both her feet and her ears.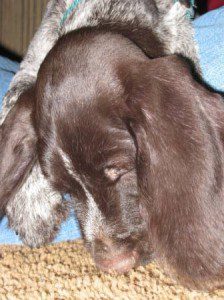 Lilly has NOT met her yet, but we hope to do some side-by-side walks up the road (on leash) before we try turning them loose in the pasture to play.
***
If the weather holds, we have our LONG awaited visit from Lilly's best, best friend Katie, the borzoi, on Sunday.
We've had cold and snow pretty much every weekend for months. It may rain/snow a bit over the weekend, so we'll see, but we're super excited to see Katie and to meet her new family.
One of the other gals from Borzoi Rescue may also come with a couple of her lanky pups as well. That should be interesting, if we let all of them loose with Lilly.