Help a Pet Food Researcher Out – Take This Tufts University Survey
I just completed this online pet food survey based on my pet food opinions and pet food buying habits for Clover. It only took me about 10 minutes. Pet food and pet nutrition researchers at Tufts University would appreciate your help, if you're willing to take the online pet food survey too.
Here is a link to the survey: Tufts University Pet Food Survey
https://tufts.qualtrics.com/SE/?SID=SV_1OmhGLYH7DaazWd
The Tufts Pet Food Survey asks questions like this …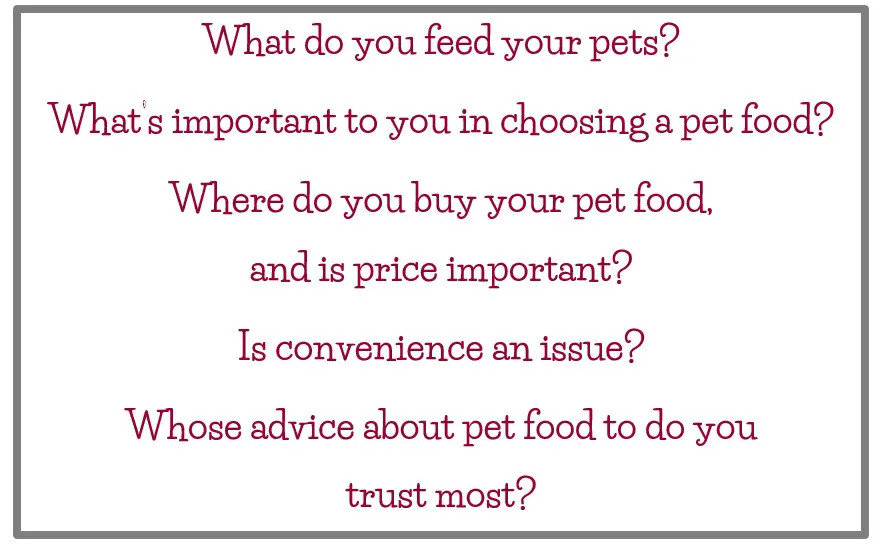 Other News From Champion of My Heart
I have a whole bunch of pet-food related news to share about Clover … since suddenly (in recent weeks) we're having a heck of a time getting Clover to eat her regular food, but we'll save that for another day.
In the meantime, and I promise I'll write more about this soon too, I'm happy to report that Clover is completely off antibiotics — after being on them since September 2014 for chronic UTI issues. I'm even happier to report that her most recent urine culture came back completely clean. We need that to continue for something like 3-12 months before we can declare our strategy of letting her go through 1 heat cycle worked.
Can you believe it's August already? Between my badly sprained ankle in late May and Clover being on lock-down while she was in heat during late June and early July, I feel a little bit like this summer is passing me by.