Great Deals: Best Friends General Store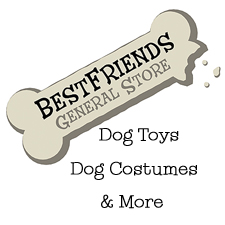 Our friends at Best Friends General Store (an online dog toy store) are making some BIG changes in their lives. In fact, they are liquidating their dog toy inventory in preparation for RETIREMENT. Check out these BIG deals on all your favorite dog toys.
What I've always loved about the store is that they categorize dog toys based on a dog's playing style.
So, please pop on over and take a look.
***

All of you are a part of our success!
Voting for 2011 Best Dog Blog ends July 29 (tomorrow!)
I've been saying all along that you can vote each day (1-2 times). Other nominees are asking for more votes per day, and indeed the site will let you vote, and vote, and vote. We've been told excessive voting" will not be allowed. But no one really knows what excessive voting means, I'm simply asking that you vote EACH day … however many times YOU feel is fair.
Please VOTE Champion of My Heart as Best Dog Blog!
If we're chosen, we'll give the $1,000 donation that's part of the prize package to our friends at Humane Society of Boulder Valley.