Dog Product Review: Petstages Stuffing Free Durable Play Stix
Does your dog like squeaky dog toys? Dog toys with no stuffing? Dog toys that are a bit cuddly? Then, Lilly has great news about the Petstages Stuffing Free Durable Play Stix in this video dog toy review. Want to win another Petstages dog toy? Keeping reading to find out how.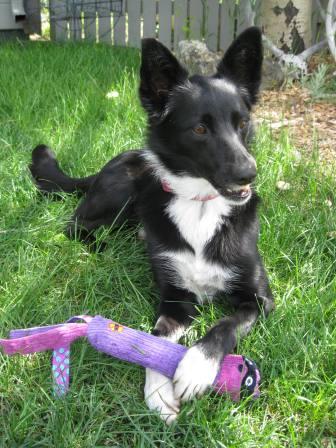 As soon as I opened the box from Petstages, the dogs went bonkers, but because I still needed to take pictures of the dog toys and because I wanted to shoot some sort of video dog toy review, they had to wait.
I'm happy to report that they did not try to break into my office closet, which is where I hid the box.
Details Petstages Stuffing Free Durable Play Stix
No stuffing but still cuddly
Almost entirely filled with squeaker
Strong internal rubber core (so that it lasts longer than 2 seconds … at least at our house)
Looks like a purple ferret or weasel
(And, you know how much we love our local weasel friend.)
Signs the Dog Like the Durable Play Stix?
This dog toy video product review from our canine heroine pretty much tells the tale of what Lilly thought.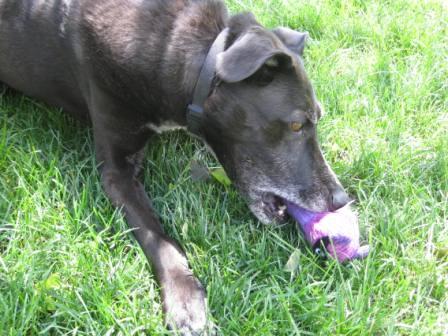 But, Ginko likes the toy too. He deferred to Lilly during official dog toy product review playtime, but then he nabbed it when we came back inside, and he is hoarding it cuddling with it on the sofa … as I write this post.
Enter to Win a Petstages Orka Jack with Rope!
The folks at Petstages were nice enough to send us two toys to test out, but it turns out the second one is a toy we ALREADY own … the Orka Jack. Ours doesn't have a rope, but we often fill the center tube with kibble for meal delivery fun, or we cram bigger dog treats into the two additional half-deep pockets for a real chewing challenge.
It's made from durable rubber, so it is NOT noisy. The dogs chew and chew and chew away on ours, and it (even after all these years) shows practically no wear.
So, since we already have an Orka Jack in our world, we're going to give this one away.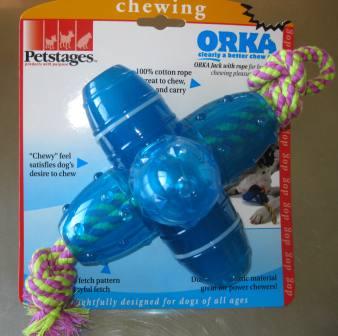 All you have to do is post a comment to this blog post by Midnight (MST), Sunday, July 24, 2011. I'll use Random.org to choose a winner. Easy!
***

Just 8 days left to vote! Voting for 2011 Best Dog Blog ends July 29. You, all of you, are our only chance!
You can vote each day (1-2 times) through July 29.
Please VOTE Champion of My Heart as Best Dog Blog!
Thank you!
***
FTC Disclosure
Petstages sent us these toys for free. Many thanks to them. Otherwise, we were in no way compensated for this product review.