Dog Product Review: Kong Squeaker
During my recent tour of the KONG headquarters and factory in Golden, Colorado, our friends there gave me a KONG Squeaker, which is essentially a classic KONG made from their puppy-strength rubber with a squeaker inside.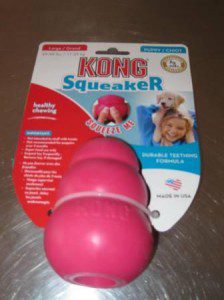 This review will be short because for Ginko, who will be 11 next month, and Lilly, who will be 7  next month, the classic KONG means one and only one thing … FOOD.
It's kind of how I feel about chocolate being the only acceptable form of dessert.
At Chez Champion of My Heart, this dog toy is a non-starter.
Clearly, Lilly and Ginko do enjoy other squeaky toys, including their alligator dog toy with 20 loud squeakers, their all-time favorite fetch balls, and their invincible snake.
However, they remain completely befuddled by the KONG Squeaker.
Ginko seriously made a face like I had played a cruel, cruel trick on him.
"What no cheese? No peanut butter? No puppy treats?" he practically cried.
"Why I've NEVER heard of such a thing as a KONG without food," Lilly chimed in. "It's an abomination."
[Lilly has a bigger non-food vocabulary than Ginko does.]
Dog Product Review: Kong Squeaker (details)
The toy is indeed made from KONG'S softer "puppy" rubber, and it's not recommended for dogs over 9 months.
This makes sense for a couple of reasons:
The softer rubber makes squeaking possible. (Even with the softer rubber, it's nearly impossible to squeak by hand. Dogs jaws are clearly stronger, even as pups.)
Puppies don't yet know that KONG means food, so they're less likely to feel robbed and more likely to simply enjoy teething and making noise.
Kong Squeaker Giveaway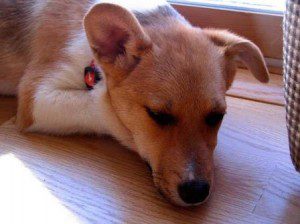 Because this toy received no joy from our on-site product testers, I knew from the get-go that I'd be giving away this lovely prize.
Now, I know we typically do drawings or contests, but a member of our Champion of My Heart community just adopted a new puppy in the last two weeks.
So, I'm sending this toy directly to Maery from Cowgirl by Proxy to her new puppy who is tentatively named Latte. You can read all about Latte's arrival into Maery and Java's lives and see many more puppy pictures on their blog.
***
FTC Disclosure
I received this Kong Squeaker for free to review. However, I was not paid or compensated in any way for this post, and I'm giving the toy away to a loyal reader.