Dog Product Review: Innova HealthBar Baked Dog Treats (and giveaway)
Keep reading … we have THREE coupons for a FREE bag of Innova dog food or Innova cat food (up to a 6.6 lbs bag) to give away.
Because I sometimes write about dog food and cat food in my paid work as a journalist and because I'm not one to experiment with my dogs' daily nutrition, I don't often blog about pet food things. It's an ethical and practical thing for me.
Food? No. Treats? Sometimes.
So, when the folks at Innova asked if they could send me some treats to try out, I said, "OK."
Innova HealthBar Baked Dog Treats
These Innova HealthBar Baked Dog Treats are made in the USA and feature ingredients like:
Turkey
Chicken
Barley
Rice
Potato
Apple
Carrot
Egg
I checked the rest of the ingredient list, and I didn't see anything that made me blanch.
So far so good. The treats are a nice size. Not too big. Not too tiny. BUT, they would be WAY too big for use in regular training. Instead, they are just right for these situations:
Stuffing into treat toys
As a bedtime snack
As reward for something BIG, like coming inside on a beautiful day when the dogs really, really, really want to stay outside
And, they break easily in half, so the dogs can share and the bag of dog treats last longer.
My only quibble? Overpackaging
Check out the promotional kit I received that opens and opens and opens to reveal the bag of dog treats, bag of cat treats, and pet food food measuring cup.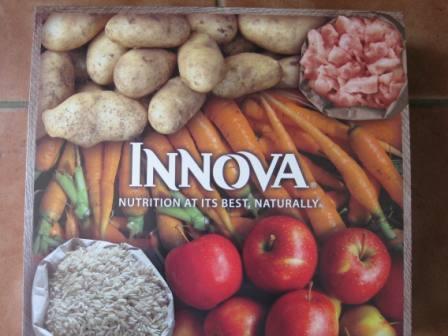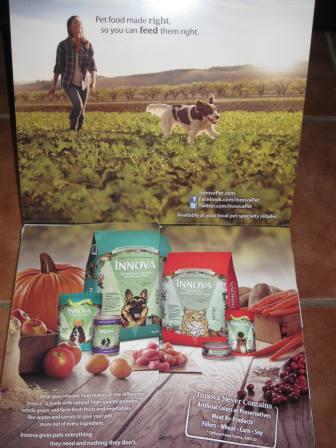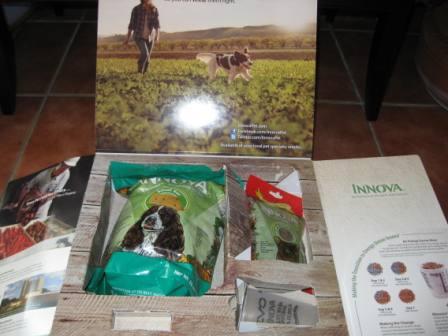 Innova Free Bag Coupon Giveaway
The nice people at Innova who sent me these FREE treats also gave me THREE coupons for a free bag of Innova dog food or Innova cat food to giveway.
I'm sorry to tell our international friends that I think this one has to be a U.S.-only prize.
I've been trying to think of something new we could do to choose prize winners, and I've got nothing.
So, as usual, please comment with something pithy to this blog post before Sunday, September 18, at midnight (mtn time), and I'll use the random picker to pick three winners. One comment per person = one entry.