Dog Product Review: Drypet Microfiber Dog Towel
Champion of My Heart gave this microfiber dog towel from Drypet a try. Here is our dog product review.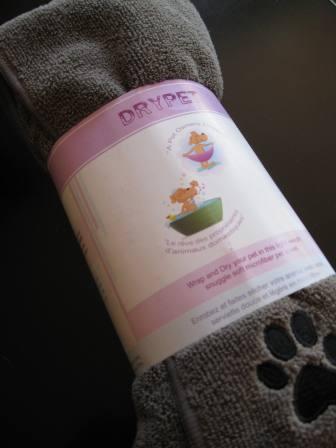 Drypet is marketed as the "fastest way to dry your pet," including that the towel will cut a dog's post-bath drying time in half.
After a couple baths — one using buckets outside and one using the shower inside — I can confirm that this towel from Drypet really does suck the water right out of a dog's coat.
For us, and your experience may vary, that did NOT seem to correlate to a faster overall drying time.
I know … that makes no sense.
My best guess is that I normally use "crunchy" towels dried outside on a clothesline, and maybe those towels perform just as well as this Drypet microfiber towel … hence no noticeable decrease in drying time.
Still … it's nice to have a dog-specific towel that really wicks the moisture out of a dog's coat.
BONUS Idea – Drypet Microfiber Dog Towel
When I complained online about my own allergies after Lilly's herding lessons, a friend recommended wiping Lilly down with a damp microfiber cloth to remove goat dander and such.
My allergy season runs April through October, so I've been wiping Lilly down with a damp microfiber towel — even when we've only been outside playing fetch in the grass. And, it does seem to help.
So, that would be my additional idea for using Drypet Microfiber Dog Towels.
26 x 36 Drypet Microfiber Dog Towel ~ $15
***
FTC Disclosure
Since no one, we're sure, wants a used dog towel, we will keep the FREE one Drypet sent us (many thanks!). Other than receiving the FREE product for review, we were not compensated in any way for this post.