Dog Book Review and Giveaway: Awkward Family Pet Photos
Who can resist a book review pitch with the headline, "Share the Awkwardness"? Not me, clearly. Here, then, is our book review of Awkward Family Pet Photos from Mike Bender and Doug Chernack, the New York Times best-selling authors of Awkward Family Photos. Don't miss your chance to win a copy of the book. It's a perfect gag item for upcoming holiday gift exchanges.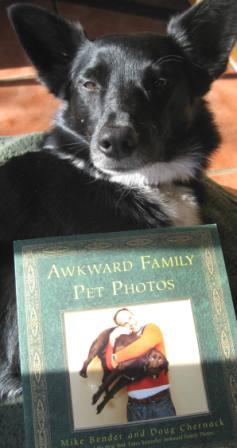 Dog Book Review: Awkward Family Pet Photos
Awkward Family Pet Photos is funny. Not quite as funny as I'd expected, but still funny — often in a cringe-worthy way. Some of the awkward family pet photos, especially where the people are naked, cross all kinds of thresholds for me. Seriously? Ick.
We're not just talking dogs and cats, either. The book includes photos of people with their treasured family pets, including:
Goats
Pigs
Alligators
Snakes
Sugar gliders
Equine friends
Birds / poultry
Leopards
Primates
In many cases (I'd argue most cases), the photos come from the 1970s and 1980s. The clothes, hairstyles, glasses, and general milieu give it away.
That dated the book for me, even though it just came out. Plus, I know there are a slew of "crazy pet people" taking and posting far more photos today. To balance my humbuggery, I had an impartial third party (Tom) browse the photos and pass judgement on Awkward Family Pet Photos:
He laughed so hard he could not breathe at times.
He shook in his chair with barely contained guffaws.
He stomped his feet and covered his face in mock horror.
Dog Book Giveaway: Awkward Family Pet Photos
Wouldn't you love to give the gift of giggles to someone this holiday season? Here is your chance to win a copy of Awkward Family Pet Photos (provided to me for FREE from the publisher)!
Truly, this book is PERFECT for holiday gift exchanges among friends and colleagues.
How to Play Along
(1) Ask 5 of your friends to LIKE our Champion of My Heart Facebook fan page.
(2) Once they LIKE our page, have each person post a note to our FB wall, telling us you sent them. That's how we'll know how many fans you've helped us get.
(3) The deadline is midnight (mountain time) Sunday, November 13, 2011.
How the Winner Will be Chosen
To pick a winner, we'll do a random drawing of entries defined as follows:
1 entry = Get 5 new LIKEs + Facebook wall post
We'll announce the winner on our Facebook fan page Monday, November 14, 2011, including details on how to contact us with the proper mailing address so that we can ship out the book prize before holiday party season begins.
Good luck and good giggles!