Cyber Monday Humbuggery and Giveaway
Black Friday. Cyber Monday. Blah, blah, blah. I'm watching less and less TV these days, so I missed all the hype over rampant consumerism flaring to a frenzy for the holiday season. Everyone MUST be shopping online today because for a first-day-back-at-my-desk-after-a-week-off day, it's eerily quiet. Cue the crickets.
That's fine by me since I'm still woefully beset by terrible germs. Yep. Nearly 2 full weeks of respiratory rumblings, and I swear I've coughed my spine out of alignment. The kink in my neck, I tell you.
So, while everyone else is posting their holiday gift picks, I've decided to go an entirely different direction. Call it humbuggery, if you must, but here is what I'm thinking …
Do dogs love toys?
Yes.
Will I buy Lilly and Ginko some new toy for the holiday?
Probably.
BUT, really? All our dogs want is time with us. They want our undivided attention. Be it spent:
Cuddling
Playing
Training
Walking
Just hanging out
So, the girls of Champion of My Heart would like to remind you that the BEST GIFT you can give your dog … is your time and attention and love. Sure, toys are great, but it's more about you and your relationship with your dog.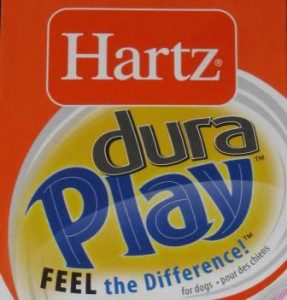 Lilly's Favorite Toy Giveaway
That said, I promised to report back on the quest to find stores that carry Lilly's all-time favorite ball. You can read our product review and watch our product review video of the Hartz DuraPlay Ball by clicking through.
After sending a desperate email to that Hartz team that attended BlogPaws West, I learned that these very special balls, the only ones on the PLANET that Lilly will fetch can be found at the following stores:
Walmart
Kmart
Theis
Super Valu
Philip's Feed
Wakefern
Albertson's
Associated Food Stores
Several other small grocery chains
We only have Walmart, KMart and Albertson's stores here in Colorado. I did not have time to check one of each, but our nearest Walmart did indeed have the entire DuraPlay line in stock … although they only had 2 balls on the shelf the day I was there, so I bought them both.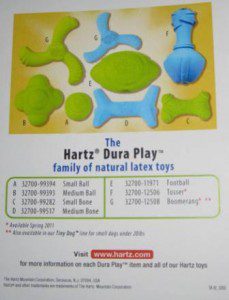 I know that dog toy makers like to come up with new toys to keep product selection fresh, but Lilly likes the small ball the best. (We know for sure because Hartz recently sent us the products labeled D and C from this particular line.)
As thanks for being such RAVING fans of this ball, the Hartz folks were nice enough to give us a whole box of DuraPlay Balls to give away.
SO, to counteract our Cyber Monday grinchiness, we'll give away one ball each to the first 10 (ten) people who post a comment to this blog post.
I'll email winners privately to get snail mail addresses.
Ho ho ho … I guess.
***
FTC Disclosure
Hartz gave us these toys to give away. I did not buy them.