Chip-In for Lilly – Canine Heroine of Champion of My Heart
Lilly (canine heroine of Champion of My Heart) suffered an adverse vaccine reaction, resulting in meningoencephalomyelitis (inflammation of the brain lining, brain, brain stem, and spinal cord).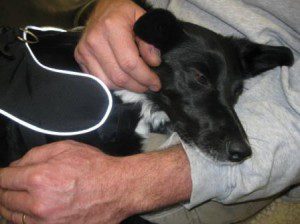 Thank goodness Lilly survived the initial emergency, but her veterinary care — including requiring numerous medications during recovery and perhaps for the rest of her life — is ongoing.
Saving Lilly was no simple task. It was quite expensive.
We do have pet insurance, and we have submitted all of Lilly's invoices to date (totaling more than $7,600 as of February 18, 2012, and including the initial ER visit, a week in the hospital with a veterinary neurology specialist, another ER run when her nose would NOT stop bleeding, and the many medications Lilly needs for her continued treatment and recovery).
We have another recheck appointment Thursday (Feb 23). The last one was over $500, so we could easily top $8,000 by the weekend. *sigh*
We still have not heard from our pet insurance company, and while our family veterinarian has filed an official "adverse event" report, she said not to expect anything form the vaccine company.
Fans and friends in real life and across social media have asked about how they can help:
Some are sending us critical medications for free.
Some are sending us mobility aids to help Lilly get around until her brain heals enough to control her body better.
Many have asked about an option to chip-in toward Lilly's veterinary bills.
So, we created this chip-in … even though we are NOT good at asking for help.
If for some reason you cannot see or use this widget, you can also access the chip-in from this Champion of My Heart Chip-In Page.
We tried putting the widget in our sidebar too, but it did not work in that location. Sorry. Too tired to figure it out.
There also seems to be a weird new error message when people click the ChipIn button on this widget or the one on the direct page. Some browsers tell you the security certificate has expired. We're pretty sure it's a ChipIn issue, and not something with our site.
BUT, if you feel better about avoiding ChipIn and just doing it directly, we use the following email address for paypal — writehawn@earthlink.net
Or, if you want to mail something, just let me know … Roxanne@wispertel.net, and I'll email you our address privately.
Thanks so much!
Sometimes the chip-in widget looks weird to me (showing $0), even though I see emails coming in announcing chip-ins. I hope it looks right to the rest of you.