Wise Up! Workbooks for organizing life's information released new petcare versions. Essentially, Organizing the Care of My Dog ($12.99) is a comb-bound workbook for your dog's important details if anyone needs to step-in and care for her — temporarily or otherwise.
Updated in 2011, Organizing the Care of My Dog  provides space for you to record the following types of information:
Dog's personality(good with people? good with dogs?, etc)
Dog's daily routine
Feeding instructions
List and location of dog supplies in your home
Health information
Pet insurance information
Instructions upon your death, including a sample trust
Instructions upon your dog's death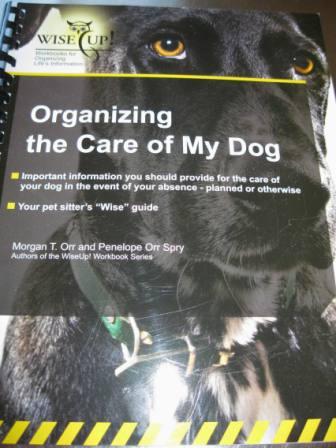 Designed for use by petcare professionals or for friends / family if you end up suddenly ill or something, Organizing the Care of My Dog gives you the place to store critical information about your pet's unique needs.
With the rampant wildfires scorching our home state of Colorado, this book would make a welcome addition to our dog evacuation kit that already includes:
Food
Medicines
Collars, harnesses, muzzles, leashes
Both paper and electronic vaccine records
Prepared LOST DOG posters (just in case)
Toys
Pet insurance forms and policy details
Since Lilly's needs shift almost daily, I personally would have a hard time keeping the workbook current. I think I might like a loose-leaf binder version better, but I can see why the publisher chose this self-contained format.
Other Uses
I wonder if these workbooks might also make nice adoption package extra. If foster families completed the main sections about what a particular adoptable dog or cat is used to, I think it would be really helpful to the pet's new family.
So, there's my marketing tip to the Wise Up! team.
***
I'm only slightly swayed by the fact that the dog on the workbook cover looks so much like our big boy, Ginko.
***
As a thank-you gift, we'll be mailing our copy of Organizing the Care of My Dog to loyal fan / reader Susan Tillman for helping us last weekend when we had another big health scare with Lilly.
***
FTC Disclosure
Nick Iauco from Brand Intelligence sent me a free review copy of Organizing the Care of My Dog. I was not compensated in any way for this review.