Book Review: Dog Photography for Dummies
Dog Photography for Dummies by Kim Rodgers and Sarah Sypniewski (Bark Pet Photography in Los Angeles) is perfect for dog lovers who have really good cameras at home or for those who want to volunteer or go pro in the dog photography world.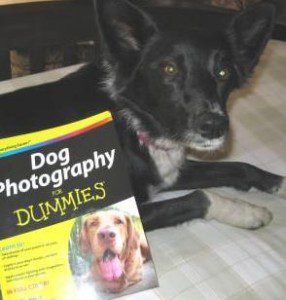 While I would love to say that I'm the right market for this book, alas … I am not because I only have a simple camera — with a painfully slow shutter speed and post-photo recovery time.
I'm sure it has all kinds of fancy features that I never use, but I'm pretty sure it cannot do much of what Dog Photography for Dummies recommends in terms of shutter speeds and fill-in lighting and other technical tricks to capture dogs in motion or other tough scenarios.
However, Dog Photography for Dummies does deliver great advice on how to take dog pix:
In a variety of locations
In the best light possible
In a natural environment
In a set-up situation
The authors tackle tough situations like photographing all-white dogs or black dogs with the best outcome. They give helpful tips on angles, framing, and artistic composition of images. And, they cover some photoshop and post-production magic that fixes common photo problems — like eye goobers and leashes.
If you have a really nice camera with various kinds of lenses and shutter speed capabilities, then I bet you'd learn much more that you can use than I did.
Some of you may be toying with the idea of a full-time or side biz in pet photography. Others likely want to take better adoptable pet pix for your local shelter or rescue … since good pictures make ALL THE DIFFERENCE in pet adoptions.
Take one of my former, longtime editors Alison Landis Stone as an example. She founded a photography company called Stone Creative Images in Philadelphia, Pennsylvania (Bucks County), and she takes oodles of amazing pix of adoptable pets and others.
Here are a couple of examples. Notice how she captures this first dog's personality. Then, check out the eyes on dog #2. It's so hard to get the eyes just right, but Alison does it.
You can view more of her work at her main site — Stone Creative Images — or you can also follow Stone Creative Images on Facebook.
I would love for my pictures of Lilly to be much better, but I do the best I can with the time and equipment I have. Here is one my favs. Nothing harder than photographing a mostly black dog in the snow, but I think this captures Lilly's amazing face just right.
For those who don't already know, Lilly is FAMOUS for "handing" us the ball when we play fetch.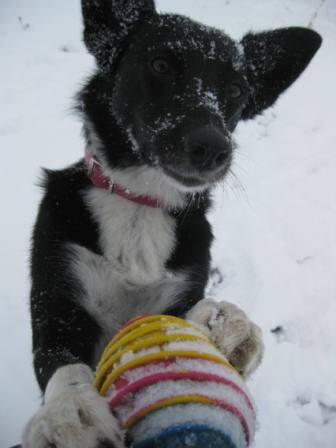 Normally, we give away the free books people send us to review, but this time, I think we're going to donate it to some local volunteers who take pix of adoptable pets.
But you can check out this cheat sheet online with many great dog photography tips.
***
FTC Disclosure
The authors of Dog Photography for Dummies sent me a FREE copy of the book to review. I was not compensated in any way for this review.