Comparing Dogs – How Clover is Like and Totally NOT Like Lilly
Busy with book stuff. Happy to say I found a solution to my cover image problem. Now, I just need to decide between 2 spectacular cover designs. Harder than I thought it would be. Stay tuned for the unveiling of the final cover. In the meantime, here are some early insights into how Clover is like Lilly and the many ways that she is completely different.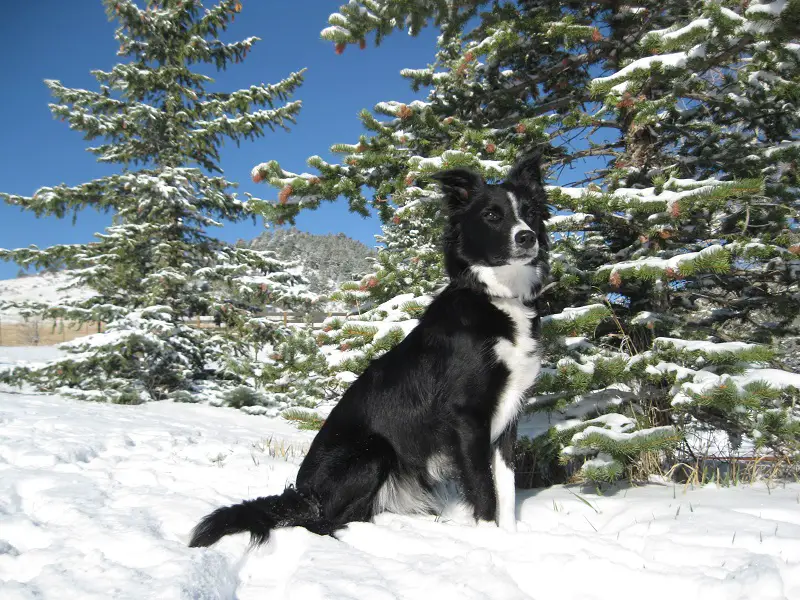 Photo of Clover taken this morning (April 3, 2015) in the fresh snow.
Similarities
Like Lilly, Clover …
Is super smart
Is super sweet
Is the perfect size (right around 35 pounds)
Learns things quickly
Loves to snuggle
Loves to take walks and hikes
Loves to dig holes in the pasture
Is good in the car (despite a little car sickness now and then)
Has creative ways to get me to stop working at the end of the day (Lilly pushed my chair away from the desk. Clover asks for a hug, then won't let go.)
Loves to sleep belly up
Differences
Unlike Lilly, Clover …
Is much more independent
"Needs" me much less
Is not particularly fearful (just in a normal and quick recovery way about new things)
Loves other dogs
Loves people
Likes to fetch, but not obsessively — would rather be chased
Loves to tug
Does not boss Ginko around
The most striking quality about Clover is just how purely, simply, exceptionally sweet she is. Lilly was sweet too, but it was more of a wise sweet, like she'd been through a lot and was thankful for a safe home. Clover seems like a pure spirit — unencumbered by any "past." She has genuine and innocent enthusiasm about nearly everything.
You may recall that in Lilly's obituary I wrote that I couldn't remember if Lilly loved to snuggle from the get-go or if that's something she learned.
Clover? Snuggling is definitely something she learned … quickly. At first, she would get grumpy and even a little snappy if we tried to love on her too much. But, with more experience, she figured out that getting smooched on and cuddled was pretty great.
Often we let her sleep in bed with us, and she likes to curl up behind my legs or on my feet. Most evenings as soon as I lie down on the love seat, Clover tucks in behind me, and rests her head on my bottom.
When she wakes up in the morning, Clover arches her head back and does this funny fall that we call "a flump." She flumps back so that her head is on the pillows. She likes to cuddle for a while like that before we get up for the day. It's a great way to start the day (even when that start is WAY too early because Ginko needs something).
She assumes a face-to-shoulder "Shirley Feeney" snuggle position that reminds me of this scene from "Happy Days." 
Unlike Lilly, whom you could position for your own comfort and preference, we have to let Clover pick her snuggle spot, or she will get up and leave.
The truth is that it's really hard NOT to make comparisons.
BUT, Clover is her own little soul — truly amazing girl.
So, even though, I still desperately miss Lilly …
I know and appreciate how much
Clover brings into our lives every minute of every day.
She is a lovely, lovely, lovely puppy. We're so thankful to have adopted her.
Let me know if there is anything specific you'd like to know about Clover, and I'll try to answer in future posts.