Monitoring the Miracle of Lilly
Before Thanksgiving gobbles up all our time and energy, here is the news from both Ginko's and Lilly's recheck appointments this week. Warning! Cute pictures below.
Ginko's Heart Recheck
We ended up cancelling several of Ginko's heart recheck appointments amid Lilly's spate of emergency needs. Finally, Monday we got him in for a quick listen by our primary care veterinarian.
Good news! While Ginko will always have a heart murmur from his leaky heart valves, his ventricular arrhythmia sounds much better – after 2 months on the new meds. His overall heartbeat sounds much more regular.
He is coughing less too. We had been blaming his coughing on early-stage laryngeal paralysis, but now we think it was heart related. So, we're thrilled that has improved. Another marker of how well he is doing on the new heart meds.
Bonus! Our veterinarian used a local anesthetic and did a quick little surgery to remove a new, really icky growth on Ginko's chest. He'll wear a t-shirt to protect his dozen or so staples. Just something gross, not worrisome, but I'm still glad it's gone.
Lilly's Internal Medicine Recheck
Wednesday, Lilly and I had a date with our new internal medicine specialist who is now in charge of all non-neurological things. During the quick appointment, we rechecked:
The blood clot in Lilly's leg. We decided NOT to do another ultrasound because all other clinical signs were good. Lilly's legs have strong pulses, are much warmer than before, etc.
The infections in Lilly's mouth and bladder. We cultured both to see if 3 weeks of monster antibiotics have done the trick. Really hope so!
The swollen spot inside Lilly's lower lip. It has improved by about 50%.
The lump on Lilly's forehead. Still a bit of a puzzle, but lower on the list of priorities and worries.
Our #1 goal right now is to get rid of this darn MRSA infection – both because it needs to go away and because the meds upset Lilly's tummy.
We finally found a combination of home-cooked oatmeal + special senior canned food + human baby food (mostly chicken and sweet potato puree) that Lilly will eat consistently.
I'm happy to say she only lost ½ pound since her last appointment. The trick is simply accepting that she doesn't like to eat very much in the morning. Often she eats the rest of her breakfast at lunchtime, then wolfs down her dinner.
Miracle Watch
I'm looking for ways to focus on the miracle that is Lilly and not just write about the medical ups and downs. The drama of it all makes me exhausted, and I don't want to be whining all the time.
So, let's wrap up the post with one piece of miraculous news!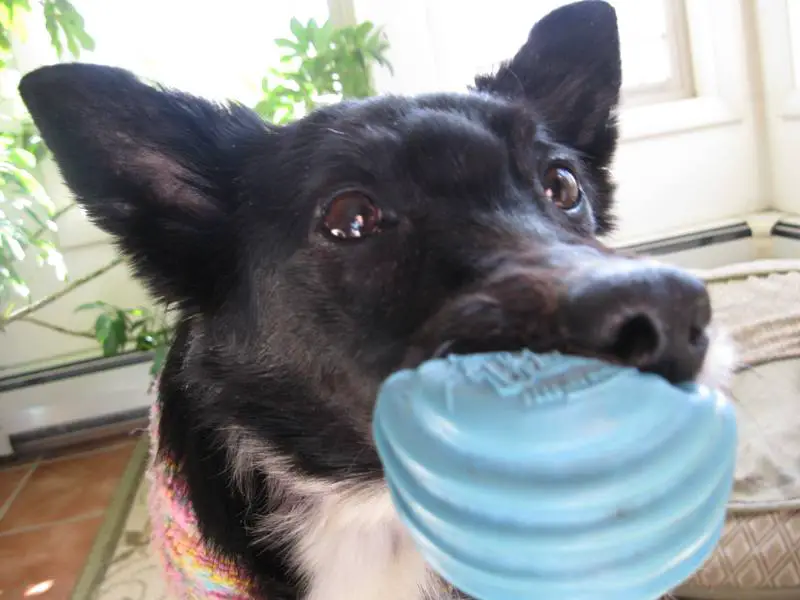 On Monday, for the first time in I cannot remember when, Lilly grabbed her favorite ball and wanted to play.
It's cold and snowy here today, but on warmer days, we make sure to get outside … which as you can see … Lilly enjoys!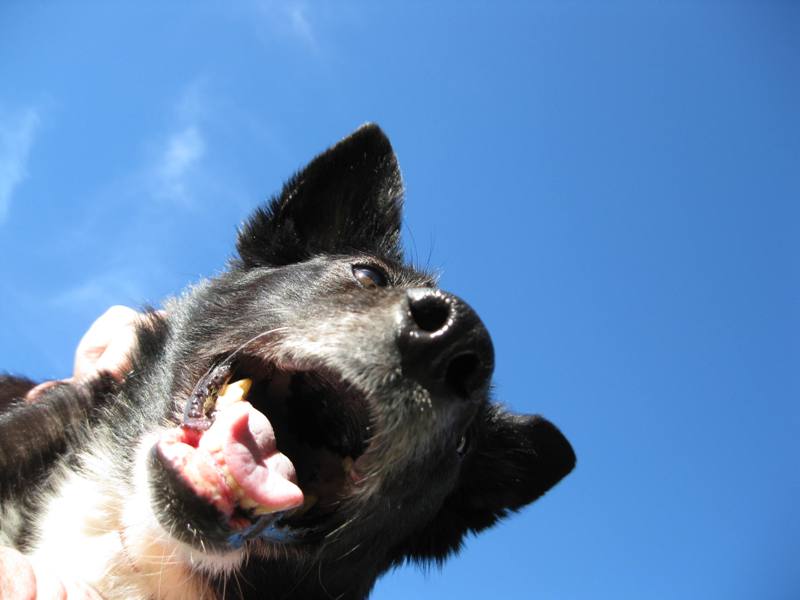 Have a good weekend, and if we don't post again before then … HAPPY THANKSGIVING!