The Agony and Amusement of Canine Brain Issues
Lilly is doing pretty well, if you don't count the 2 super-soaker / super-messy diaper days in the last week and the renewed urge to eat paper products. Oh, and we even had to break out the dog toy Jaws of Life today. Honestly!
Incontinence Flare-ups
Last Friday, Lilly went through more than 10 diapers. A bummer for sure, but a super-bummer since I gave her a bath after the first two. I really wanted her to stay clean for a bit, but it didn't last long at all.
Today, Weds (3/13) has been another monster wet, wet day:
All of her blankets got soaked overnight.
She peed through all the blankets in her upstairs crate this morning (even with a diaper on).
She just soaked the towel over her bed in my office (even with a diaper on).
AND, Lilly keeps soaking through her disposable pee pads inside her washable diapers.
Let's hope she rebounds tomorrow, like she did over the weekend.
We missed acupuncture last week due to scheduling trouble, but we have an appointment tomorrow.
Paper Eating
I'm not sure if Lilly feels well enough to be bored / ornery, or if resuming the chemo has somehow made her steroid hunger worse, but she has started eating tissues and paper towels out of the trash again.
Last night, we put all the trash cans out of reach, and she discovered the joy of unrolling toilet paper for snacking.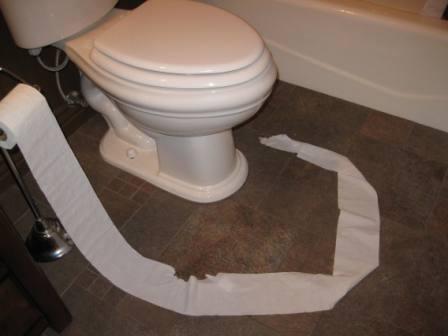 I guess we'll have to start closing the bathroom doors.
Dog Toy Emergency
And, finally, today at lunch I thought myself clever to stuff some banana into her Petstages Occupi toy.  Lilly's latest strategy with food toys is to stuff her entire chin inside the toy to get food out. I didn't think the hole in the Occupi was big enough.
I was wrong.
She got her chin and lower canine teeth stuck inside the large end of the toy. We couldn't get it off without risking breaking her teeth.
Thankfully, Tom was working at home today and used a tool from the garage to cut the toy enough that we could pry it off Lilly's chin. There was almost no clearance between her chin and the toy, but he was super careful and snipped a bit at a time.
So, crisis averted. I swear … Lilly was an active and adventurous puppy, but I don't remember quite this many dramas back then.
Some Fetch
On the upside, we've started playing a little short-distance fetch in the evenings inside the house with Lilly's favorite ball.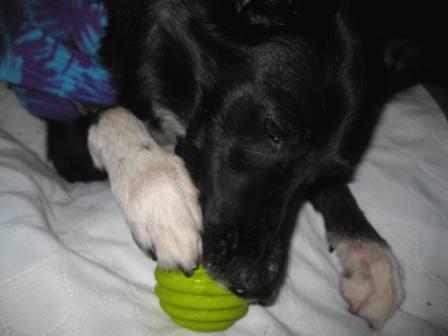 Coming Up
Lilly has acupuncture tomorrow and chemo next Tuesday and Wednesday. We'll post again as news warrants.