Everything OK After Lilly's Sudden Collapse
The headline is that Lilly is fine, but here is a recap of how she gave me a BIG scare on Wednesday.
We're expecting another foot or two of snow tomorrow, but this week has been nice and warm. We took advantage of the weather to get Lilly some exercise outside at lunch and to do some makeshift physical therapy such as:
Walking through slushy snow, which is a bit like walking in the underwater treadmill.
Practicing heel side shifts (what we call "switch") and spins both directions, which is like doing figure 8s.
Climbing a few hills in the pastures, which is just generally good for strength.
On Wednesday, we'd been poking around outside, both dogs off leash, for about 15-20 minutes. I like to give Lilly as much freedom as I can, even though it would have been smarter to have her on leash.
Just as we approached the house to go back inside, Ginko spotted some dogs going for a walk on the road and bolted. Lilly took up the race to the fence too.
I called Lilly to me, after she got a good look at the dogs on the road. She turned to come to me, but:
She was limping badly, suddenly lame in one rear leg.
She stumbled and fell several times.
She finally gave up and just flopped down in a snow bank.
I feared she was having another seizure, but when I got to her in the upper pasture, she was just really winded and weak.
You see, Lilly has NOT sprinted in a very long time. She mostly looked like she had really, really overdone it. BUT, I was still worried about the lameness.
I carried her most of the way into the house. Once inside, I massaged her well and checked her over (no signs of pain). I asked her to "nest" (cue for lie down on the dog bed) under my desk. Lilly proceeded to:
Sleep for 2 hours.
Ask for a KONG.
Have dinner.
Bug me for attention.
She never limped nor stumbled again.
Just to be sure, I emailed our veterinary neurologist with the news — telling him I thought she just overdid it.
His reply?
"Poor lilly! Her heart & volition were bigger than her body."
We'll be more careful outside from now on. I'll keep her on leash or leave Ginko inside while we work so that he doesn't instigate another chase.
By Thursday, Lilly was once again enjoying the sun and having fun being outside.
This photo makes me laugh. She looks SO young and SO short!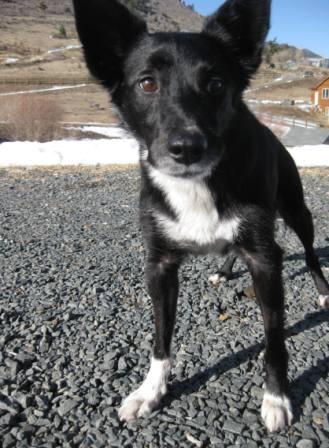 Have a good weekend!