Adverse Rabies Vaccine Reaction: The Year in Pictures, Part 1
Wednesday, January 23, 2013, marks the one year anniversary of the rabies vaccine that nearly killed Lilly, our canine heroine. This whole week, we will review the year in pictures (and video). It's a great opportunity to see how far we've come. It's a great chance for those new to our story to catch up. Today, photos from the first hospitalization.
Here is a description and timeline of what happened in the hours and days following Lilly's adverse rabies vaccination reaction.
Lilly fell ill within 12 hours of receiving the vaccine on January 23, 2012, with lethargy and injection site swelling. Keep in mind that wasn't unusual for Lilly, so we continued giving her Benadryl and assumed she would recover as she always had. She did receive preventive steroids at the time of vaccination.
However, Lilly worsened over several days and developed:
Severe lethargy
Fever
Increasing ataxia (wobbly walking)
Cognitive delay
Vision impairment
I'd say Lilly was about 20% of her normal self when we took her to the ER.
I took her to the nearest 24-hour veterinary emergency hospital Sunday, January 29, 2012. Lilly was hospitalized Monday, January 30, 2012, at the nearest veterinary specialty hospital with a board-certified veterinary neurologist / neurosurgeon.
Lilly spent the next seven days receiving round-the-clock treatment. Despite that aggressive intervention, Lilly began having seizures Thursday, February 2, 2012, while still hospitalized.
In the weeks the followed, Lilly developed numerous additional problems relating to the vaccine-induced meningoencephalomyelitis and side-effects of treatment, including:
Vomiting
Hypertension (high blood pressure)
Epistaxis (nose bleeds)
Severe diarrhea
Lilly required another veterinary emergency visit for severe nose bleeds Friday, February 10, 2012.
***
January 31, 2012
At this point, Lilly cannot stand or walk. Her vision is greatly impaired, and her cognition is incredibly slow from the massive inflammation in her brain and spinal cord.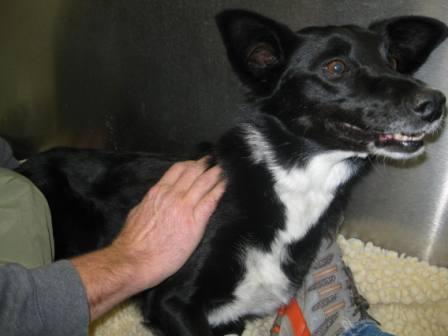 February 1, 2012
Exhausted girl cuddles in her ICU cage with her Daddy.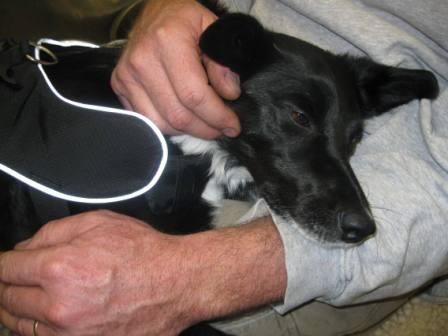 February 2, 2012
Diagnosis official ~ vaccine-induced meningoencephalomyelitis
Early this morning we received the terrible phone call, letting us know that Lilly had begun having seizures.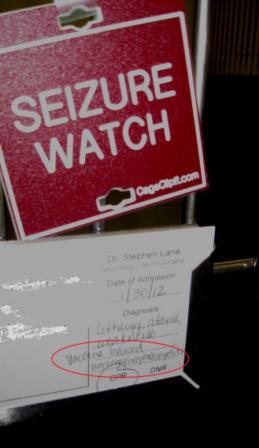 I am not sure this embedded video will work after the latest update to wordpress. If not, use this video link. It shows Lilly trying to sit up.
February 3, 2012
Lilly wears jingle bells, which alert the veterinary neurology team when she is having a seizure.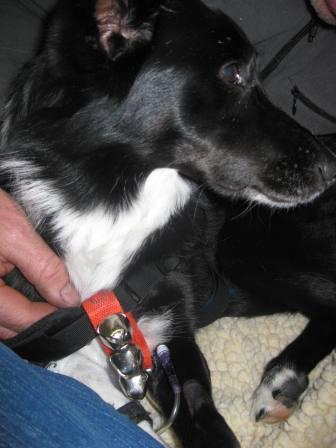 February 4, 2012
Still hospitalized, Lilly is starting to feel better and get stronger.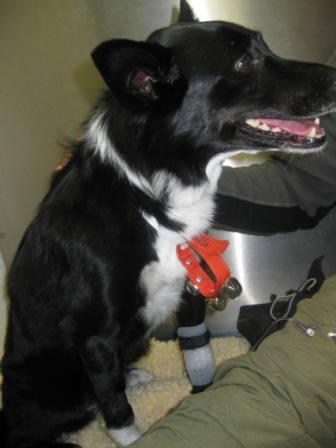 February 6, 2012
Lilly came home from the hospital February 5, after *finally* going 24 hours without a seizure. She has NOT had one since. Here, she rests at home, but notice where her front feet are. She had a lot of trouble sensing where her body was. Lilly wore a harness with a handle so that we could help her walk.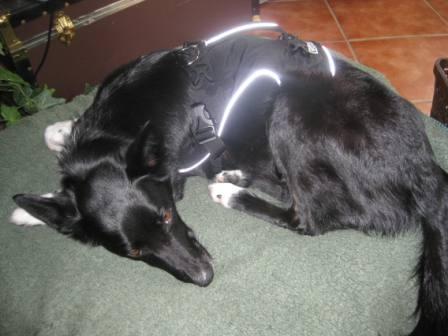 February 7, 2012
Lilly is exhausted and sleeps most of the day. At this point, we were still struggling with terrible diarrhea and water mongering (and peeing) from the massive steroids. Lilly was taking lots of meds to combat the many side-effects. Remember, at this stage, Lilly was NOT incontinent. At night, we slept maybe 90 minutes at a time — taking turns getting up with her.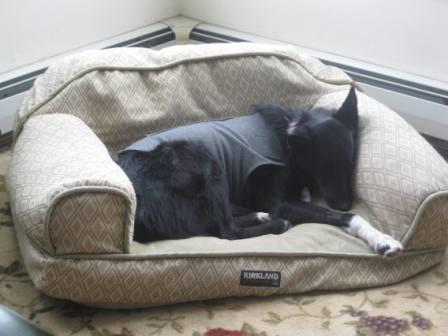 This video (if it shows up below) shows Lilly's early attempts at walking again. If you cannot see the embed below, use this link. 
 February 13, 2012
My poor little Bloody Valentine. High blood pressure (Lilly still takes meds for it) caused pretty severe nosebleeds for a while … causing another ER run because we feared she might bleed to death.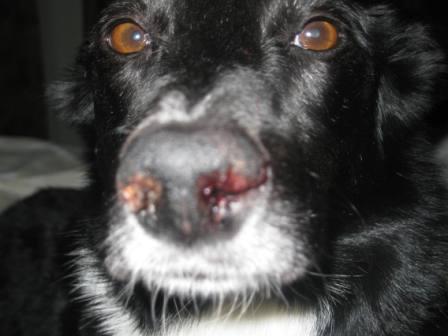 February 17, 2012
For a while, Lilly wore rubber-bottomed socks to help her get better traction while walking. Super cute!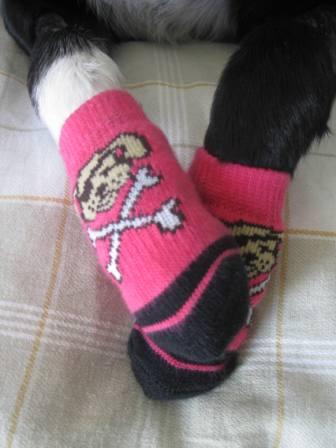 Tomorrow, we'll show some more uplifting photos of Lilly's "first recovery." At the time, of course, we assumed her recovery was a given. There were a few small relapses throughout the spring and then the massive relapse (worse than the original onset) in August 2012.