Dog Book Review: Red Dog * Blue Dog: When Pooches Get Political
We try really, REALLY hard NOT to be political online. Last week, however, Lilly got thrust into the political spotlight when someone nabbed a patriotic photo of her from our site and used it in a political Facebook post — without permission or attribution. How weird is that? So, I'm happy to report that Red Dog * Blue Dog: When Pooches Get Political by Chuck Sambuchino includes full copyright details on every photo in this dog-centric political humor book.
Below you can see how Lilly's photo got used online. I'm currently working on new ways to protect the photos we post from copyright infringement. Ultimately, I gave the OK for the photos use since we really DO support voter registration drives.
In fact, the cut off to register to vote in Colorado is Tuesday, October 9. If you are not registered to vote (yet), check with the Secretary of State in your state for deadlines and details.
The Facebook page did add attribution for the photo, after I posted a comment claiming rights to it. (Many thanks to our friend Amy Palmer for alerting me to the photo's use.)
OK. Sorry. Tangent over.
***
Book Review: Red Dog * Blue Dog: When Pooches Get Political by Chuck Sambuchino
Hardcover: 144 pages
Publisher: Running Press (July 31, 2012)
$12 US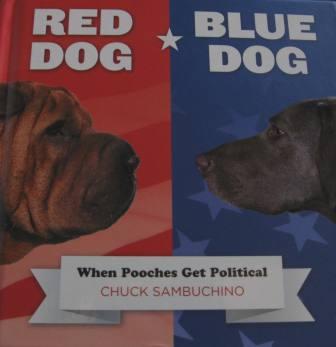 Essentially, this book takes amusing photos of dogs and overlays witty political commentary or common political positions. Some are funnier than others.
Full of stereotypes and other political jabs, I'm sure you'll find something to make you chuckle.
A couple of the jokes made my heart hurt … like the one about canine atheists with a big BLUE syringe in the foreground … like the fearful dog hiding in a pile of clothes at a political rally, but we can all agree that I'm uber sensitive about certain dog things well beyond politics.
Red Dog * Blue Dog: When Pooches Get Political would make a perfect party favor / prize if you're hosting an Election Night Party. 
Or if you have any politicos on your holiday gift list, it might make a funny gift.
So, as usual, we'll assign numbers to every comment to this post here on the blog before Sunday, September 30, 2012, @ midnight mountain time and do a random drawing next week to pick the one winner.
I'll contact the winner by email privately to get a mailing address and arrange to ship the book.
Look how cute Chuck and his dog Graham are!
***
FTC Disclosure
The author contacted me via email directly and sent me a free review copy of the book (via his publicist). I was NOT compensated in any way for this review.