Dog Book Review: Your Dog's Best Health
Nancy Kay, DVM and board-certified veterinary internal medicine specialist, published a new book called Your Dog's Best Health: A Dozen Reasonable Things to Expect From Your Veterinarian. Perhaps you already know Dr. Kay from her earlier book … Speaking for Spot.
If you're looking to develop a better partnership with your dog's veterinarian, we highly recommend this book for insights into how things are changing and what you can and cannot expect as an active, engaged veterinary client.
I learned something new. For example, Dr. Kay advises — in a section about what your veterinarian expects from YOU inside Your Dog's Best Health– "Unless instructed otherwise, dog your best to bring your dog in with an empty stomach and a full bladder."
The stomach thing I knew, but the bladder? I ALWAYS get my dogs to pee on verbal cue before we go inside. It's less about me worrying they will make a mess, and more about me wanting them to feel comfortable (not in bladder distress).
What do you think about that? Full bladders?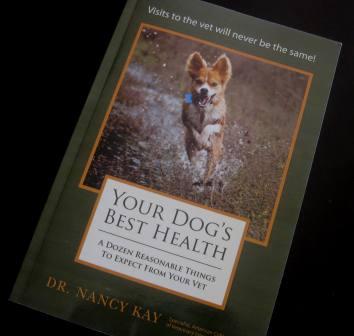 We won't spill the beans on all 12 things Dr. Kay feels are entirely reasonable to expect from your veterinarian. We will, however, say how interested and timely #7 Discussion of Your Dog's Vaccinations felt at this stage in our lives.
As for conversation points for this topic, Dr. Kay says, among other recommendations about vaccines in Your Dog's Best Health:
"Be sure to let your vet know if your dog has had any vaccine side effects in the past, even if the symptoms appeared only mild. In response, she may choose to use a vaccine product from a different manufacturer, avoid giving multiple vaccinations all at once, and / or pretreat with medication to prevent side effects. If the adverse reaction to a previous vaccine was serious enough, she may recommend that future vaccinations be discontinued."
We agree with our whole hearts.
Considering Lilly's recent severe, life-threatening adverse rabies vaccine reaction, let me add that we did all these precautionary things. Yet, Lilly still had major trouble and will spend many months (perhaps) years recovering from the trauma to her brain.
For this reason, she will never receive another vaccine. Period.
This picture shows Lilly, with our copy of Your Dog's Best Health, 6 days into her inflammation-related relapse. We're hoping an increase in her steroid med frequency will get her back on track to recovery.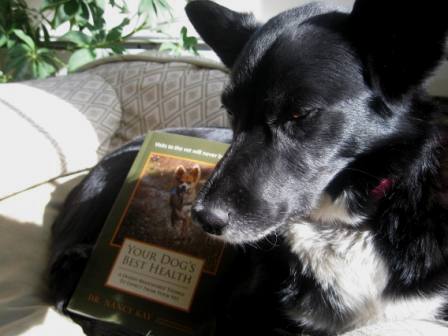 ***
If you are new to our scary story of a rabies vaccine gone horribly wrong, feel free to use the blog post category pull-down menu in the sidebar or this Adverse Vaccine Reaction category link to access all the posts we've published since Lilly got very, very sick with meningoencephalomyelitis (inflammation of the brain and lining of the brain and spinal cord) after an adverse reaction to a rabies vaccine given January 23, 2012. We're working VERY hard to help her fully recover from both her cognitive and neurological deficits.
***
FTC Disclosure
Dr. Kay sent me a free book to review. We know each other professionally. In fact, we finally got to meet in person at a recent veterinary conference in Denver.  However, I was not compensated in any way for this review. I did it as a favor to Dr. Kay.