Update on the Totebag Eating Incident
Blame it on the steroids and other medications required to treat Lilly's eningoencephalomyelitis / meningoencephalitis (inflammation of the brain and lining of the brain and spinal cord). Two weeks ago today, Lilly ate 1/2 of a canvass totebag while I was away at a work meeting.
We, of course, induced vomiting in our wayward dog, and we felt pretty confident we'd gotten all / most of the canvass totebag to come back out before it could cause major trouble for Lilly.
Well, 10 days later …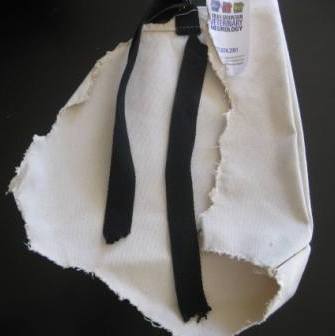 Lilly pooped out pretty big hunks of totebag. Yes, this is a dog blog post about dog poop! Sorry.
Since I scoop the dog pen pretty much right after Lilly and Ginko go, I have the opportunity to know about any dietary indiscretions. Since Lilly did now show any signs of an intestinal blockage (lethargy, vomiting), and since nothing had come out the other end, I figured we were good to go.
But, Monday, I heard my poor puppy girl groaning a bit while she pooped, and out came more totebag than I'd expected … especially 10 days later.
I promise. No pictures of that. ;o)
Crazy!
She seems no worse for wear, so we'll be grateful and leave it at that.