Adverse Vaccine Reaction – Another Emergency
If your dog has never required medications that cause dramatic behavioral side-effects, count yourself lucky. Friday (3/9/12), we had another MAJOR scare with Lilly. <insert expletive here>
First, the backstory. Lilly now exhibits problem behaviors we've NEVER faced, even when she was a puppy. In addition to the trouble between Lilly and Ginko due to missing calming signals, Lilly now chews on (and apparently EATS) things she should not.
It's DIRECTLY related to the steroids, anticonvulstants, and other drugs  required to treat the meningoencephalomyelitis (inflammation of the brain and lining of the brain and spinal cord) that resulted from Lilly getting a three-year rabies vaccine January 23, 2012.
We've caught Lilly chewing on, chewing up, or EATING:
Tissues
Paper towels
Paper
Plush dog toys
Clothes
Cast-iron pans
Kitchen cabinets
I deluded myself thought I had a system to secure such items in my absence. I was wrong.
Friday I had a meeting in downtown Denver with a new (potentially LARGE) client. Before leaving, I took Lilly on a 1.5 mile trek (her farthest yet) up the mountain and back in hopes of tiring her. She has been very, Very, VERY fussy and antsy (also a direct result of the medications) lately, so I try to get her as much exercise as I think her body can handle.
I left at 10:45 am, and I got home at 2:15 pm.
This is what I found, along with about a 1/2 box of shredded tissues and a bunch of torn up paper: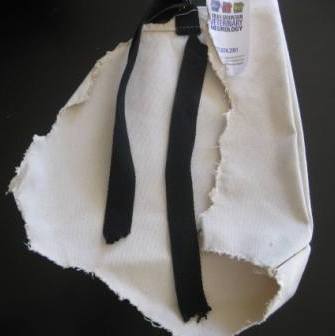 Don't recognize this mangled canvass totebag? It's what is left from the one our veterinary neurologist gave us as a consolation prize after Lilly's week-long hospitalization.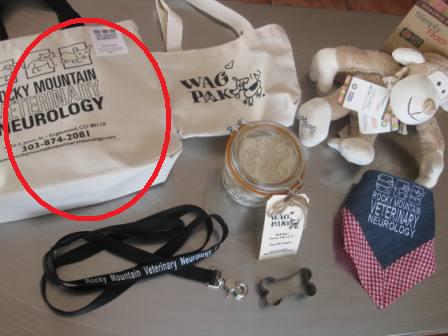 I also found the leash and the bandana near the totebag, but they were unharmed.
So, once again, I found myself in EMERGENCY mode … with 1/2 of a @#$@# canvass totebag inside Lilly.
A few phone calls later between me, a veterinary technician, and our family veterinarian, and I was standing outside trying to get Lilly to vomit on a puppy pee pad, after giving her 3 tablespoons of hydrogen peroxide (mixed with 3 tablespoons of water), along with some canned food — as instructed by our veterinarian (who had been on her lunch break when I first called).
THANK GOODNESS, Lilly vomited a total of 5 times:
Food
Huge pile of totebag
Huge pile of totebag
Foamy bile
Foamy bile
Tom and I used sticks to poke around in what came up, and he estimated that we got 90-95% of the bag to come out.
We allowed Lilly to eat dinner and take her MANY neurology meds, as normal, then we waited. If she could eat, poop, and NOT throw up, then she was likely going to be OK.
If she vomited after eating, then that would indicate a blockage that would require ANOTHER ER run and possible surgery.
again <insert your favorite expletive>
This morning (Saturday 3-10-2012) things are so far, so good.
Food is going in one end and coming out the other without incident. Sure, we can see pieces of toy, tissue, etc., but nothing appears to be stuck … yet.
It's my most sincere hope that trend continues.
***
Because we're afraid Lilly might eat her blankets, she will now be confined to a hard-sided crate without any blankets when we are not home. I hate to do it, but I just cannot risk her dying from something STUPID like eating something she should not … after we've worked so hard to help her survive this @#$@#@ adverse vaccine reaction.
I've heard that a certain kind of muzzle might work as well, but I hate to think of Lilly going around with something strapped to her face all the time.
***
We have our next follow-up appointment with the veterinary neurologist on Monday (3/12/12). I'll try to post news for Tuesday morning.
***
Alas, I have to work this weekend to make up for losing Friday afternoon to Lilly's latest emergency and for losing some / all of Monday to her neurology appointment.
BUT, Lilly and I will get out and walk at some point, and we sincerely hope your weekend is fun and relaxing.
Thanks, as always, for your continued loyalty and support through our trying, worry-soaked times.