Dog Toy Review: Petstages Occupi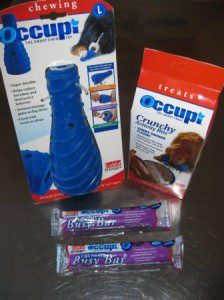 Many thanks to the folks at Petstages for the free dog toy to review. Check out these pix and our thoughts about Occupi … a food-delivery dog toy that can be used 3 different ways for nervous dogs, active dogs, and bored dogs … via tiny treats, solid busy bars, or paste-like stuffing.
Our dog toy basket and cupboard boasts an array of food delivery toys since the dogs eat most meals from toys, rather than bowls.
Always keen to give a new one a try, the girls of Champion of My Heart have this report:
Lilly finds the tiny treats WAY too easy to get out. She had the Occupi empty in about 90 seconds.
Lilly managed to get the busy bar out TWICE, despite my best efforts to jam it into the center chamber. I pushed until my thumbs hurt, but she still managed to get the treat bar out. (So, I took the bar away from her.)
We haven't tried stuffing it with peanut butter or anything yet, but I'll just add that Lilly managed to damage the edge of the dog toy in just a few minutes.
Not the more voracious chewer in the dog world, Lilly suggests those of you with vice-like jaws might be better suited for other kinds of chew toys.
Catch up with past Petstages dog toy reviews. And, you can always use the search box to look for other dog toy reviews and dog product reviews. You can also try the category pull-down menus in the right-hand blog sidebar.
***
FTC Disclosure: Petstages did indeed give me this toy for free. However, I was not compensated in any way for this review.