Fading Xanax: Spoke Too Soon
Lilly has been off the xanax for a month now. While at first report, she showed no ill effects, drug withdrawal, or behavior problems. Things may have changed … and NOT for the better. Lilly had a rough few days last week.
The Dreaded Wooden-Slat Bridge
It had been many months since Lilly needed to cross a wooden bridge over the creek down in town. During our recent walk with our pals from GoPetFriendly.com, Lilly did OK the first time we crossed a bridge. She carried herself a little low and slow, but she made it across and didn't seem too upset.
BUT, when we had to cross back over, she full-on belly crawled and seriously considered flopping down and not budging.
Thanks to a bunch of food and cheerleading, Lilly made it back across … where we gave her a jackpot.
She seemed to recover quickly, but I still felt terrible because I hadn't seen her that frozen in a long time.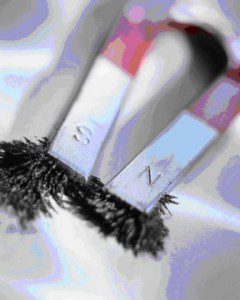 Breakdown in the Veterinary Parking Lot
The next day, when we went into town to have some blood drawn so that Lilly could take part in that study of canine compulsive disorder in border collies, Lilly broke down. I mean, she totally panicked in the parking lot. I haven't seen that reaction in YEARS. Nervous? Sure. But, not a complete flip out.
Blame it on being distracted by real life, but Lilly's response to arriving at the veterinary hospital caught me off guard:
She went completely flat in the middle of the parking lot and refused to move … as if the gravitational force suddenly got 1,000 times stronger in that one spot. She was stuck.
I tried asking her to SIT so that we could click into Relaxation Protocol mode. No dice.
I tried swinging around through the landscaping to get her some space and a new perspective on the situation. Nope.
I tried sitting with her off to the side and hoping she'd settle down enough to move. Nada.
With the once-empty parking lot now full, rush-hour traffic rumbling by, and a train approaching on nearby railroad tracks, I made a decision. I'm not going to tell you it's my best decision of all time. I'm not going to pretend I didn't likely cause a bigger set-back in Lilly's long-term training.
I picked her up and carried her inside.
Her anxiety kept ramping up, and I feared she would try to flee. I wanted her inside, safely contained.
She wasn't pleased with me. She sat with her back to me and could NOT respond, so I reached around and slipped her small, high-value treats (soft salmon treats) … again, and again, and again.
Within about 3-5 minutes, Lilly could finally hear me and respond. Her breathing became normal. She welcomed me petting her and massaging her. She actually almost smiled and had a MUCH more relaxed face.
Lilly, however, refused to walk with the veterinary technician to the treatment area alone. So, I walked with her, even boosting her tucked butt a little to keep her moving.
I'd love to be a fly on the wall, but the veterinary staff ALWAYS reports how good, calm, cooperative Lilly is when they need to work with her.
Between now and Lilly's wellness exam, which is due later this spring, I'm going to swing by the veterinary hospital as much as I can when we're down in town, and we'll just sit in the parking lot and eat for a few minutes. When all else fails, go back to classical conditioning roots with a fearful dog. Always.
Lilly's Rough Day
Last Saturday, after a day in Denver helping staff the GoPetFriendly.com booth at a travel show, I came home to a completely distraught dog. Lilly was beside herself … hiding, slinking around, seeming completely wary of everyone and everything.
"She has been like that all day. I couldn't even get her to play," Tom reported.
Great.
I'm not sure if all the scares earlier in the week caught up with Lilly. I don't know if my own stress level upset her. (I pretty much don't get a single day off in March … as far as I can tell.)
SO, I gave her a 1/2 tablet of xanax (about .5 mg) after dinner, and she seemed much better. She snuggled with us. She played fetch in the house. She enjoyed a LONG bout of hide-and-seek, with us hiding one of her toys. She seemed like her smiling, happy self.
I suppose I should have waited to see if my mere presence cheered her up, but I didn't want her to be upset one more minute.
The Xanax Timeline
I'm told the xanax is quick-acting and not greatly long lasting (about 10-12 hours). I don't believe it stays in the body beyond that. So, I can't imagine we're just now seeing Lilly completely off of it . Maybe we are.
Either way, until further notice, I'll use the xanax as needed, including our next veterinary hospital visit if she seems like she needs it.