Dogs Helping Kids Prep for Kindergarten
Longtime readers might recall that my pal Karen Quinn is a wildly popular author, with best-selling books that get movie deals, etc. Well, her latest book (Testing for Kindergarten) helps parents and families prepare kids for the kinds of tests they'll get before entering school. And, ONLY Karen would think to use videos of her dogs (Olive and Bronco) to help families in this effort. You can find them, and LOADS of other advice (if this is your demographic) on her new Testing for Kindergarten Blog.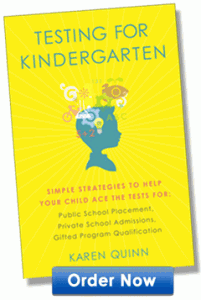 The videos are pretty cute. Seriously, they are designed to help kids prepare for school by checking for how well they remember details from the stories acted out by the dogs.
I have no idea what these tests are like or what they mean, but Karen tells me the videos help kids prepare for OLSAT and Standford-Binet Test Questions.
Summer Reading List
While I'm at it, I'll add that I love, love, love Karen's novels. (And, not just because she is a dear girl and much-valued adviser.)
The Ivy Chronicles (which is stems from Karen's real experience running a kindergarten test prep consulting firm in NYC)
Wife in the Fast Lane (where an Olympic darling turned CEO-style mogul takes on a new adventure)
Holly Would Dream (an Audrey Hepburn inspired romp, with plenty of fashion and uber-rich cruising on the high seas)
The Sister Diaries (a more serious plot with sisters coming to grips after their mother's death … still … some crazy, funny scenes that I won't spoil)