Tom practically had to sit on me over the weekend to keep me from running Lilly down to the nearest veterinary emergency room. Starting last Wednesday, April 4, 2012, Lilly began acting VERY sick again. She only got worse over the weekend — a holiday (for many), of course!
Because of snow and cold temperatures early last week and then our wedding anniversary on Wednesday, Lilly didn't get her usual 3-mile walk for several days. She began showing signs of lethargy Wednesday, so I only walked her 1.5 miles Thursday. She seemed worse Friday, spending most of the day curled into a tight ball, so we didn't walk at all.
Saturday I reminded myself that our neurologist told me at our last appointment that there wasn't anything bad I could do to Lilly through physical exertion, so we walked the full distance.
The rest of the day she was zonked out and wobbly. I have some video, but I'm too tired to edit and upload it. Suffice it to say that Lilly spent most of Saturday like this …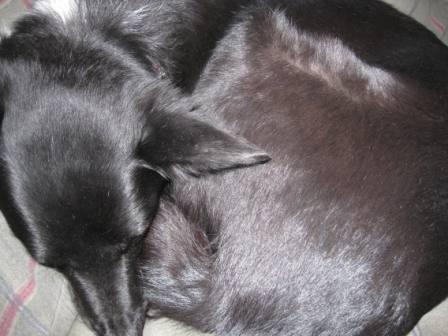 Then, Sunday Lilly could barely walk and mostly sacked out.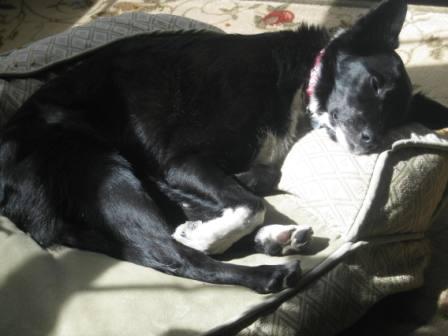 Perhaps you can see the tension in her face. She has a really different countenance when she doesn't feel well, and I feared for her brain.
No one warned me that a relapse was possible, but another Veterinary Referral Center of Colorado / Rocky Mountain Veterinary Neurology client — who follows us on Facebook and who is also named Roxanne — posted a Facebook comment that they've been through a couple of relapses. The solution she pointed out has always been to adjust meds.
Oddly enough, that made me feel better … because I had this idea that Lilly would ONLY improve over time.
So, I stayed tough, monitored Lilly closely all day Sunday, and waited to call Rocky Mountain Veterinary Neurology Monday morning, and they increased the frequency that Lilly takes steroids. She had been getting 1/4 of a pill every 3 days. Now, she will bet 1/4 of a pill every other day.
I have high hopes that she starts feeling better and regains her sense of balance soon.