We have a diagnosis: meningoencephalitis. That simply means inflammation of Lilly's brain and the lining around the brain. We do not, however, know (yet) the root cause of Lilly's rapid decline over the last week or so. Here are some pictures and a short video from our visit with her Tuesday (1/31) afternoon and more details that we can share.
I know this post is likely WAY too long, but there is a lot of information to share.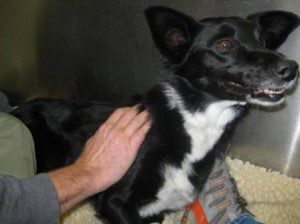 Meningoencephalitis – What's Going Wrong?
We know from Tuesday's (1/31) MRI that four distinct areas of Lilly's nervous system are affected:
Upper cervical spinal cord (her neck)
Cerebellum (back of her brain – controls coordination / balance)
Brain stem (oldest part of the brain, evolutionarily speaking – transfers signals from the brain down the spinal cord and affects all sorts of fundamental body processes)
Occipital cortex (toward the back of the brain – also sometimes called the visual cortex)
Essentially, Lilly's ability to move her body reliably is greatly impaired. She cannot stand or walk. When I have more time, I'll write a better, full description, but watching her try to move is a bit like seeing a tadpole wiggle in the mud.
Her vision isn't great right now either. We know that from delays in her "menace response," which literally means they try to startle Lilly and get her to flinch, but she is very slow and dulled in her response to say someone flicking their fingers near her eyes.
We know from her initial neurological exam from Monday (1/30) that Lilly is weaker front than back and weaker left than right.
What We've Ruled Out
I'm happy to report that so far veterinarians have ruled OUT several very scary possible causes of what's happening with Lilly, including:
IMHA (immune-mediated hemolytic anemia) – a destruction of red blood cells, where most dogs survive just 2-3 weeks from onset.
GME (granulomatous meningoencephalomyelitis) – a severe and often irreversible form of nervous system inflammation.
Structural lesions in the brain or spinal cord – essentially nervous system cancer
Meningoencephalitis – Sad, But Hopeful
One of the hardest parts for me is to see Lilly not at all like her bright, sharp, edgy self. The physical declines are tough because her body literally does not feel like Lilly. When I hold her hands or help move her around, her body feels like she is NOT there … like the quintessential Lilly CHI is just not there.
It's also VERY hard to look into her eyes and NOT see my quick / responsive girl. It feels like she is distracted or absent from her own mind. Because looking at her right now feels like looking at my Mom (who, for those who don't know, is dying from a disease affecting her brain stem), it's hard not to make comparisons, not to stir up other grieving emotions, etc.
We're pretty much past the stage where we fear for Lilly's life, but I'm still quite worried about:
What Lilly's recovery will look like
How long it'll take
And, whether or not she'll return to the 100% Lilly we know, including body physical strength and agility as well as mental / cognitive sharpness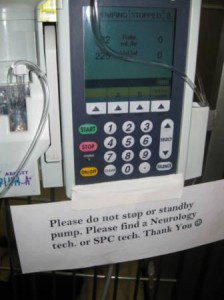 Meningoencephalitis – Treatment Timeline
Even though we don't know what has caused Lilly to get so sick, the good news is that veterinarians already started a treatment plan right after Lilly's tests on Tuesday (1/31).
Lilly is getting a chemotherapy drug most often used to treat lymphoma because nervous system inflammation is mostly processed through lymphocyte cells. It is given in very different doses than if veterinarians were treating cancer. I believe it's … cytoxan, but it sounded more like cytozene when I was told, so I'm not entirely sure.
Lilly will get intravenous infusions:
12 hours on
12 hours off
12 hours on
She is getting this medicine along with massive steroids, which the veterinary team began as soon as she was admitted to the specialty hospital (after trips to our nearest ER and to our family veterinarian). Lilly is being cared for by Dr. Steve Lane and his team (Rocky Mountain Veterinary Neurology), which is housed inside Veterinary Referral Center of Colorado (VRCC). The hospital is only 30 miles (about 45 minutes) from our house. It's one of only three spots in Colorado with a board-certified veterinary neurologist.
We hope she can come home Thursday (2/2). Either way, when Lilly comes home, she will continue to take steroids. Veterinarians will also add a drug most often used to prevent "rejection" after an organ transplant called cyclosporine.
We don't know yet if Lilly will be able to take the meds ONLY until she recovers or if she'll need to take them for life. It kind of depends on what they find as a "cause."
I promise I'll write more about what role her recent rabies vaccine may have played in this later. For now, just know, it is one of many possible causes still on the diagnostic table.
Clearly, however, she will need round-the-clock supervision and lots of rehabilitation / physical therapy to regain her strength and balance and such.
Meningoencephalitis – A Video
I can do my best with words to describe what all this looks like in real life, but I think this short video clip of Lilly from Tuesday (1/31) will give you a good idea of her struggles and how far she'll need to come to fully recover.

P.S. Many, many thanks to all of our new blog friends who came over to check on Lilly on the recommendation of our friends at Romping and Rolling in the Rockies, at Cowgirl by Proxy, and at Nawty Dawg, Big Heart.
The social media love made an impression on the team at VRCC. One staff member stopped by with her two young sons to meet the "famous" Lilly from Facebook.