Lilly News: Slight Diagnosis Shift, More Seizure Activity
Words cannot convey the exhaustion all of us feel as Lilly remains hospitalized, with new symptoms cropping up each day this week (so far). Thursday (2/2) was another long day, so just a few pix and notes and another video … before we tackle whatever comes up today (Friday 2/3).
Shifting Diagnosis: From Meningoencephalitis to Meningeoencephalomyelitis
I noticed on Lilly's hospital cage card that the diagnosis now reads: Meningeoencephalomyelitis
I asked our family veterinarian what the difference is, and she said that they "myelitis" ending simply means that Lilly's spinal cord is affected, along with her brain and brain lining.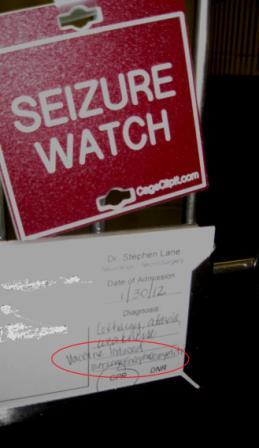 Honing in on a Cause
I also noticed that Lilly's hospital card says this as well: "vaccine induced."
Now, it's important to note that no one from the neurology team has said to us that they've decided this is indeed caused by Lilly's rabies vaccine, given on January 23, 2012.
It's also interesting to know that when our family veterinarian spoke to our neurologist (the same day I noticed the cage card) that the specialist told her that he still wasn't sure on cause.
I've also not heard if our spinal cord fluid tests sent off to the veterinary school are back yet, so who knows?
When we visit Lilly for our allotted hour each day, it is NOT considered an appointment per se. We do get escorted back by one of the neurology technicians, and I can often get a couple of simple questions asked, but that's about it.
AUGH! Another Seizure
Despite some powerful anti-convulsant meds, right before we arrived for our visit Thursday afternoon (2/2), Lilly had another seizure. That was pretty upsetting. That means she had 3 seizures in less than 12 hours:
4:15 am (about 1 minute long)
5:42 am (about 1 minute long, lost bladder control)
12:30 pm (about 15-30 seconds long)
At first, she was antsy and unsettled when climbed into her cage, but it turned out she needed to pee, and we were in her way. I HATE that she doesn't get the chance to go potty outside, but she really is unsteady, and they like to keep her close to medical help, if she needs it.
BUT, after she peed and we got her cage bedding changed out, Lilly sacked out. I mean conked, conked, conked out. She didn't even hear us get up to leave.
The meds they give her when she has a seizure are designed to do that.
I'm just glad she is getting rest and seems relaxed, but it's still sad to see her in such rough shape (relatively speaking).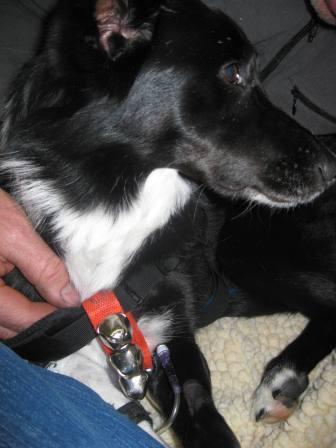 Jingle Bell Canine Seizure Warning System
Now that Lilly is on 24-hour seizure watch, they've strung 3 jingle bells onto her harness so that when she has a seizure, they can hear her bells ringing.
Talk about turning a happy sound into something I'll now fear … but it makes total sense since the jingling alerts the busy staff nearby.
I'm still learning all the seizure details and lingo, but indeed Lilly has GRAND MAL seizures that affect her whole body. That's why the jingle bells make such a good warning system.
Lilly wanted to be more mobile Thursday, but that's likely because:
She had just had another seizure.
She needed to pee.
Lilly did seem a bit stronger, physically though … compared to how depressed she was the day before, like she'd given up trying to move.